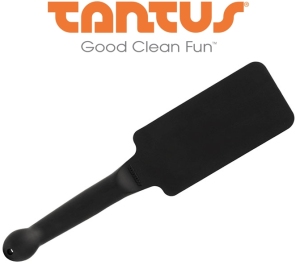 I have made no secret of my great love of Tantus toys so when they first started making paddles I was intrigued. I remember the first time I held one. It was at Epiphora's house (also my first time meeting Piph- it was a big night) and they had just arrived in the mail. We took out the four original paddles (Pelt, Thwack, Wham Bam & Snap Strap) and did the only sensible thing- Hit ourselves with them. We quickly learned our lesson- Tantus paddles have bite! I kept that lesson in mind when I got my own Tantus impact toy – the Plunge Paddle.
So, what's the deal with this toy? It's an all-silicone paddle with an insertable handle suitable for g-spot or prostate stimulation.
How does it work? Rather than explain paddles and dildos to you, because I think you all know how those work I'll give you some specs.: The flat paddle is 6.75″ long and 3″ wide. The dildo handle is a total of 7″ (about 5.5″  insertable). The bulbous head  measures just over 4″ around  while the rest of the shaft is between 3.25 to 3.5″. Altogether the Plunge Paddle is 13″ long.
How does it feel? I feel like I always say this but, it's a Tantus toy so it's awesome silicone. In this case it's a smooth, velvety silicone. The dildo handle is quite firm while the paddle portion is very flexible.
No, seriously, how does it feel? First things first- this paddle is no joke. It's got some serious bite to it and doesn't require a lot of force on the the user's end to deliver said bite. As a dildo, I found it surprisingly satisfying. It is definitely a thrusting dildo and I was using it with a partner who needed to have a quick tutorial  entitled "when a toy has a g-spot curve you want to face it this way" but once we got those facts straight it was all good. The prominence of the bulb on the head was fabulous for getting right at the g-spot without the usual hunting I'm accustomed to. Frankly, the handle of the Plunge Paddle wasn't just a serviceable dildo,  for me it actual was a good g-spotting dildo. Of course I recommend using lube and, in a move that will surprise no one, I used Please Cream which is a hybrid lube (water-based with a little bit of silicone.)
Things I'm down with:
Yay silicone! And, in this case, yay for a silicone impact toy- aka an impact toy that can be used with multiple partners because it can be sanitized.
Cleaning is a breeze. Soap and water will do it but if you're feeling intense it's totally boilable.
The Plunge, like most Tantus toys, is just plain bad-ass.
Two-in-one! It's a paddle, it's a dildo, it's both! Fun for going from spanking to g-spotting (or prostate play) without changing toys
Things that make me go grr:
There's a hole in the handle that the tags were attached to when it arrived…I suppose it could be used to attach something for hanging the paddle but as the handle is insertable I just don't love having a small hole in the insertable portion.
Thank you to Tantus for sending me the Plunge Paddle! Get your Tantus Plunge Paddle here!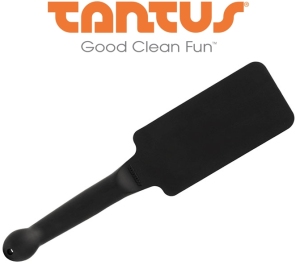 This product was provided to me by Tantus Inc. free of change in exchange for my honest review. My review policy is simple: I will never lie about liking a product if I don't but when I do like something it's hard to get me to shut up about it.