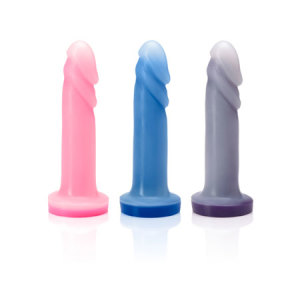 In January I made a sex toy to-do list for 2013 and I'm pleased to report that I have done quite a good job working my way through it (everything except the wooden piece and the swing – the swing may not have been realistic but the wooden piece… I should get on that…) The very first thing purchased off the list was  the Tantus Cush O2 and in addition to being the first thing purchase off the list it was my introduction to dildos in general and to the awesome that is Tantus specifically.
My Cush O2 was a big deal and I love that thing. But here's the thing- it's a BIG deal. Like, big. While I wanted to love it so much I found that given the size I needed considerable warm-up before I can comfortably use it. It's a great toy but it is a time commitment and sometimes a girl wants to get in, get off, get out and go watch some Dance Moms Mad Men. This is what caused my eye to turn towards the Flurry O2. I suspected it would be all the things that drew me to the Cush minus the challenging (for me*) girth. So, when a package arrived while I was away at CatalystCon and the boyfriend said "I think you already own this one" I knew that I was getting to test the Flurry O2 and was super-excited.
So, what's the deal with this toy?
It's a medical grade silicone dildo with two ridges up near the head. It is available in 3 colors- Candy (pink), Twilight (purple), and Ice (blue). Mine is blue- I love it! I has a diameter of 1.5″ and a length of 7″
How does it work?
Well folks, it's a dildo. You put it in the orifice of your choosing. The Flurry is safe for anal play and harness compatible.
How does it feel?
So, the Flurry is a dual- density toy. What does that mean? Awesomeness. Longer answer: it's soft and squishy on the outside with a firm core. This toy has a lot of give to it when you squeeze it but the firm core means the shaft isn't bendy. The silicone has a soft matte texture. I find lube to be a must with this toy (Me recommending lube? Quelle surprise!). I know you are expecting me to say "water-based only" but hold on to your hats kids! You can use (high quality) silicone lube with a (high quality) silicone toy without bad things happening!! (seriously, silicone baby jesus will not even cry!) If you are wary just do a spot test down near the base. I tend to like a hybrid lube myself.
No, seriously, how does it feel?
Delightful. With proper lube usage the Flurry glides beautifully, the ridges feel great for stimulation the g-spot or, if you turn it around, the perineal sponge. What I really enjoyed was pairing the Flurry with my Mystic Wand- particularly holding the wand to the base of the Flurry while angling it toward the g-spot (this took some finagling but was SO. WORTH. IT.) For me the Flurry is super-versatile and this is because of it's smaller girth- all the playing I had wanted to do with the Cush was possible with the Flurry and most of it felt pretty great. The Flurry feels great for thrusting or for just chilling if you like to have something inserted during clitoral stimulation.
Things I'm down with:
Yay for silicone- especially from Tantus. These people pioneered the silicone sex toy. Their toys are the highest quality and will last (I'm estimating roughly here- don't hold me to this) forever.
I love the girth- I feel like dildo Goldilocks except I skipped the "too small" part.
It's always great to have quality non-representational dildo options – Other toy companies please learn what Tantus knows: not everyone who wants penetration wants their toy to look like a penis.
The Flurry O2 is just a great versatile dildo. I love this thing.
Things that make me go grr:
Um, it can get lint-y? I'm grasping at straws here…
The Flurry O2 retails for $69.99 and you can get yours here.
Thank you to Tantus for sending me the Flurry O2 to test!
PS- In case you couldn't tell, I like Tantus A LOT and I'm so excited for a review I have coming up. It will be my first-ever video review and it will feature an exciting NEW Tantus product! Get ready!
*My whole "Oh noes! The Cush is too big for my delicate little self!" thing may have caused the president of Tantus to tease me just a little at last spring's CatalystCon.