On Tuesday I posted to facebook a picture of my newest sex toy storage solution:
On both the Bedhead page and my personal wall it created quite a stir- I felt compelled to point out that this was not my first crack at repurposing regular household goods for sexy stuff. Case in point:
Between this and the shoe rack the bulk of the collection now has a home.
I say "the bulk" because there are things that are too big like the Hitachi Magic Wand and the Fucking Sculptures Pussywillow (which is gorgeous and I should find a way to display…), things that are too pretty like the Pure Wand, the Tie-Dye VixSkin Mustang, the Duckie Vibe with the boa and my beloved SwoonKink cashmere flogger and things that stand up on their own like the Lovehoney Happy Rabbit and the Jimmyjane Form 4 (also the Form 4 is in such heavy rotation keeping it on the bedside table makes more sense. Truth be told I suspect I'll end up moving the Mystic Wand back to the nightstand… that's right, I just admitted that having a certain toy 5 feet from my bed is JUST TOO FAR. Don't judge me.) A second door may come into play in the not-so-distant future.
Anyway as the facebook discussions wore on someone mentioned needing a storage solution for safer sex supplies. Surprise, surprise- I already had one and it is something I repurposed. Check out the lovely 1950's make-up case I found in the massive thrift-store/emporium around the corner from my house (because, Portland) which now holds everything I need to have some super-sexy safer sex:
Bonus points: It has room in it for a couple of toys and travels beautifully.
Okay, there's one more place where I have MacGuyver'd my bedroom a bit and that is my nightstand: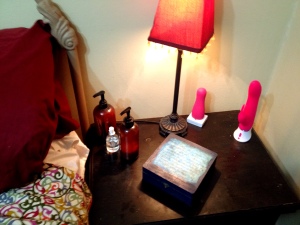 We talked about my nightstand once a long, long time ago and it hasn't changed a ton, just expanded a bit. Now it's got the aforementioned toys that can stand on their own, the pretty box and the lube pumps… yeah, there used to be 1, now there are 3. Yes, 3.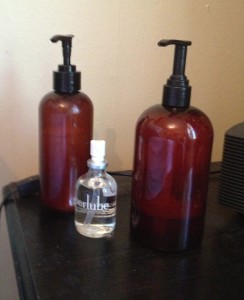 I have long been aware of my need for all lube to be in pump bottles. It just makes dispensing so much easier! You can do it on your back and one-handed! As Uberlube (the one in the middle) is one of very few companies that gets this, I resort to transferring my lube into big pump bottles (mine used to hold shampoo- I tried buying a pretty hand soap dispenser once but the tube was too thin for lube) The bottle on the left contains Please Cream (a hybrid) and the one on the right is Sliquid H2O.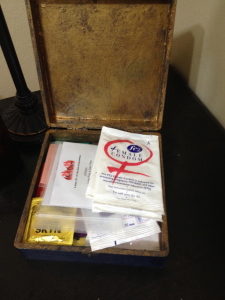 So yeah, more safer sex supplies. I like to have a small stash right nearby (in an old cigar box, I painted it in college, it's got a Kerouac quote on it because, college) because, on your back and one-handed and all. Lately the box has consistently had FC2 & Lifestyle SKYN condoms as well as Hot Dam dental dams. Fun fact: none of those items are latex. Suck it allergies!
Okay folks, so that's how sex stuff storage goes down in my house. Basically if I find something that can hold something sex-related I will make it happen. I joked the other day that I want an HGTV show involving me helping people redesign their homes to make them more sex-friendly. I think folks would totally watch that.
Anyway, I got a couple of questions as to what all is in the shoe rack so I made you a handy "Who's Who" key for both that and the spice rack, there are even links to the reviews of the toys I've already written about- Check it out!
Door Rack Who's Who: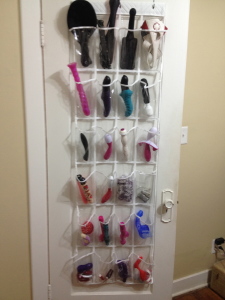 Row 1 (L-R): Naughty & Nice Plush Paddle, Sex & Mischief XOXO Paddle & Sportsheets Beaded Flogger, Tantus Plunge Paddle, Tantus Nurse Connoisseur Harness– REVIEW. Row 2 (L-R): Tantus Echo Handle, Fun Factory Stronic Eins– REVIEW, Fun Factory Stronic Drei –REVIEW, Vibratex Mystic Wand. Row 3 (L-R): LELO Ella– REVIEW, OhMiBod Lovelife Cuddle, Lovemoiselle Noemie Ceramic Dildo – Discontinued , OhMiBod Lovelife Adventure– REVIEW. Row 4 (L-R): Really old pink vibe (my 2nd toy ever!) & Janine Pirates Cove Rocket Vibe, LELO Mona, Crystal Delights Minx Tail, Jimmyjane Hello Touch. Row 5 (L-R): Shiri Zinn Cupcake, Fun Factory Laya, Slender G –REVIEW  & Easy Glider, Butterfly Bliss –REVIEW,  Gee Whiz Hitachi Magic Wand Attachment. Row 6 (L-R): We-Vibe Touch & We-Vibe Thrill, We-Vibe Salsa- Discontinued (The We-Vibe Tango is almost identical)  & CRAVE Duet, Night Rider Vibrating Plug, Aneros EVI & LELO Luna Beads
Dildo Carousel Who's Who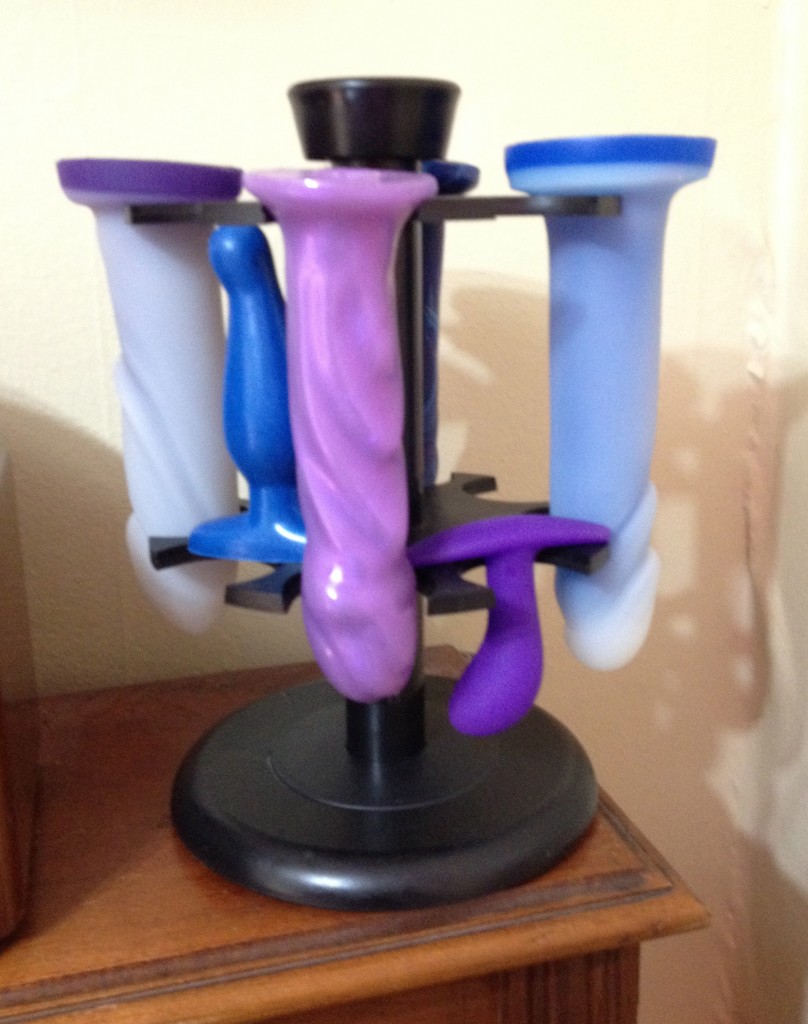 L-R Tantus Cush O2, Sidekick Anal Plug, Tantus Goddess Vibrating Dildo –REVIEW, Fun Factory Bootie Anal Plug, Tantus Flurry O2 Dildo – REVIEW