BIG NEWS! The Fun Factory Stronic Drei has hit stores and is now available (with free shipping!) from my good friends at Good Vibrations!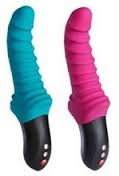 As you may remember, a little while back I acquired a Fun Factory Stronic Eins and became unhealthily obsessed with it  thought it was a very good sex toy that I enjoyed a lot. So you can imagine my excitement a few weeks back when, while  I was on the road covering the California portion of the Superhero Sex Shop Tour and en route to CatalystCon, I got a message from Fun Factory asking me if I wanted to test out the newest member of the Stronic family- the Drei. ARE YOU FREAKING KIDDING ME?!! YES!!! Yes, please.
And here's the thing, I know I shouldn't compare siblings but, I like it even better than the first one!
So, what's the deal with this toy?
Like its predecessors the Eins and the Zwei, the Fun Factory Stronic Drei does not vibrate. There's a solid metal weight moving inside a hollow body. Also, there are magnets. I don't remember this being such a big deal when I got my Eins but the Stronics now carry warnings in regards to pacemakers due to the magnets. Anyway, what all of this adds up to is a toy that thrusts.I had an interesting conversation with the folks over at Fun Factory before receiving my Drei in which we discussed hands free use of the toy-trusting that it will just do the work "trust the thrust" as they say. I tried it and… more on that later. One thing I will note in terms of the thrusting technology- I loved it on the Eins but it is even better on the Drei. How so? It's quieter. Significantly. Like, it's almost silent. For reals.
How does it work?
I'm taking the description right from the Eins for this one guys:
"This piece of beauty is rechargeable with a nifty magnetic charger. The rumor is 16 hour charge time = 3 hours use. I charged it when I got it and haven't had to since and it's been getting used a bunch so I'd say that number is conservative. Anyway, it holds a charge well. There are 10 modes with silly names that I never remember opting instead to be like "oooh the – - – ——— one!" (this is my brain on sex toys) The controls are great- hit the button that says "Fun" to turn it on and off  and the plus and minus buttons (BUTTONS!!) to change modes. It will not cycle through the modes (unless I'm doing something wrong) though- it gets to the end of the list and stops. This seems to be because, apparently, the minus button leads to the "algorithmic" modes, while the plus button leads to the "constant" and "dynamic" modes. I really don't get that but I also don't care- we'll get to why very soon".
How does it feel?
The medical grade silicone has a smooth matte finish (so lube is important- but when is it not?). The shaft of the toy is rigid but the silicone coating has some give and then the upturned tip and flared based are a bit squishy (especially the tip). The Drei has ridges all along the shaft which, frankly, kind of scared me. Before trying it I wryly observed to a friend "It's got ridges, like Ruffles for the vagina¹"  I thought they would hurt. I was extremely wrong about that.
No, seriously, how does it feel?
So, yeah, I was afraid of the ridges so I devoted considerable time to warm up. Then I involved a lot of lube- a really thick lube, it seemed like the occasion.  Finally though, I just went for it and inserted the Drei and the ridges felt… wait, ridges? oh, I forgot about the ridges I was too busy feeling all the AWESOME. I thought it would feel like things dragging and catching inside my body but instead it just adds lovely dimension to the thrusting that I already knew I loved from the Eins. The upturned end is also kind of amazing. Angling it towards my g-spot is as easy as using light pressure with one finger to tilt it while it thrusts.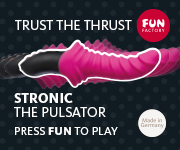 So, on to "trust the thrust" Fun Factory sent me a handy PDF with a whole bunch of suggested positions for hands free use of Stronic toys (I think there will be a version of said PDF available publicly soon  Here it is: Download). It was impressive even if parts were silly (I'm looking at you Sex and the City). It included specifications on which toys in the Stronic line would work in each position(based on either logistics or safety) as well as positions for both anal and vaginal use  Being the team player I am I jumped in with gusto. I tried all of the vaginal positions and as most indicated  that they could also be done with the Eins I tried that too, so I could compare the two, for research purposes – BECAUSE I CARE. You're welcome. I tried some of the anal positions with the Drei (note: NEVER use the Eins  anally it has no flare to the base. Remember- "without a base = without a trace")  but I have to be incredibly turned on to be into anal stuff and as it wasn't part of a marathon night of sex with someone hot and /or no one had just won the Stanley Cup I wasn't all that into it. Here's the verdict on hands-free Stronic: most of the positions work, the toy stays in and thrusts. (except for one where my body literally spit both toys out- not at the same time, I tried them separately) Several of them feel lovely and I think if I were less of a list-checker I may have come in one or two of them (I was very "that one works, next!") but those were the ones (and maybe just the one) that allowed something else to exert a little force on it. In short I feel like, while the toys will fuck me hands free, to get me to orgasm they need a little guidance- this is true of most partners. 
So about that orgasm, it was a doozy. Here's how it finally happened, here's how the Stronic Drei got me off and proved that it is maybe the perfect toy for the Bedhead-  When I angled it to hit my g-spot – which, by the way felt awe-some- the flared, ridged base came in contact with my perineum. If you have been following my reviews you know that perineal sponge stimulation is kind of my jam and having something this powerful stimulate it was just incredible and bing, bang boom -orgasm (I'm from NJ, I apparently orgasmed accordingly). So, while my g-spot² and I are still not BFFs the Stronic Drei and I are maybe making each other friendship bracelets as we speak.
Things I'm down with:
It's a beautiful, well made toy, you can't go wrong with medical-grade silicone and because it's Fun Factory you can trust that the materials are what they say they are
The shape and motion are terrific for simultaneous stimulation of the g-spot and perineum
Also, I didn't mention this earlier but this does some awesome external clit/perineum stuff too- LOVE IT.
This toy is soooo quiet
It's fully waterproof- I'm planning a Stronic bath
It locks. I've accepted that I travel with sex toys a lot and I love when I can be sure they won't go off in my luggage.
Two-year warranty. Think about that for a minute… I think I usually expect stuff to go wrong with toys inside two years but Fun Factory stands behind their stuff.
I just love these thrusting toys. Fun Factory has created something really awesome in the Stronic line.
Things that make me go grr (It's the same stuff from the Eins, there's nothing new that I dislike)
Again, the price tag. I hate raving to you all about a toy that is so expensive.
The lack of any kind of storage bag. The silicone does have a tendency to pick up fuzz and stuff and a bag would be cool for preventing that. Especially as the toy costs $200.
The Stronic Drei retails for $199.99 and you can get yours here
Interested in winning your own Stronic Drei? I'm running a giveaway until December 17th - Check it out!
Thank you to the folks at Fun Factory  for sending me the Stronic Drei to test!


This product was provided to me by Fun Factory free of change in exchange for my honest review.My review policy is simple: I will never lie about liking a product if I don't but when I like something it's hard to get me to shut up about it. 

¹80s Potato chip commercial reference -nailed it. 

²I had a great conversation at CatalystCon about feeling like the g-spot is like that friend that all of your friends know, love and rave about but you're not sure why they're so great.

&copy Copyright 2013 The Bedhead, All rights Reserved. Written For: The Redhead Bedhead