Hey folks!  
So, as I was planning the different legs of the Superhero Sex Shop Tour I carefully mapped the trips so I could visit multiple shops in a logical manner- I was lucky, it worked out very well… for the most part. But an oft-repeated Bedhead lament has been "eek! When am I going to get to Albuquerque?!" I knew there was no way for this tour to be complete without hitting Self Serve Toys but, frankly, nothing else is near Albuquerque. So, when Ashley Manta was making a cross-country move over the summer,  I was thrilled that she agreed to visit Self Serve on my behalf. Problem solved….for the most part. Yeah, I still totally want to see this place myself- even more so now that I've read Ashely's piece about it! So, without further ado, I will hand today's post over to Ashley and the folks at Albuquerque's Self Serve Toys.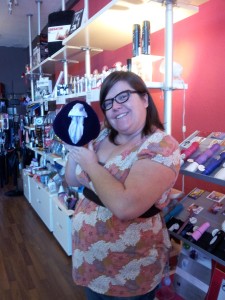 While driving from Philadelphia to Los Angeles back in August, I had the opportunity to stop at a store that truly embodies the ideals to which the sex positive movement aspires. Self Serve Toys in Albuquerque, New Mexico, is co-owned by Matie Fricker and Molly Adler and has five highly trained employees. I was thrilled  to find Matie (pronounced May-tee) working when I arrived. She was kind enough to answer my impromptu interview questions and even posed for a picture with my vulva puppet! Pretty impressive for a surprise visit!
What makes Self Serve unique?
My business partner and I spent a year doing market research to determine where to open up a shop. We decided on Albuquerque because it is the largest mid-sized city in the US that lacked a female friendly, sex positive store. We have a unique customer service approach that allows our employees to go deeper into heart to heart conversations with clients, rather than just attempting to sell them a product. We want to understand what our clients need and provide a holistic assessment of what products would be best to fit that need. We also test every single toy and product that we sell in the store. We want to be able to give recommendations based on our actual experiences.
We are also committed to selling only body-safe toys. We don't sell toy cleaners because most toys can be cleaned by either boiling them or using soap and water. Many toy cleaners are not body safe, so we want to avoid selling those types of products. We believe that people deserve to have a safe place to shop, particularly for toys! We are an education based business and offer workshops every month. We frequently have visiting sex educators offer workshops so that our clients have an opportunity to experience a variety of presenters.
Entering a sex shop for the first time can be daunting. Any advice to first time shoppers?
Do your research and go to a good one! If you go into a nasty one, you'll probably end up with a nasty toy. Figure out what you want out of the experience, set goals, and ask the staff at the store about your goals.
Any favorite moments/great stories?
I really believe this is my calling. I have so many great memories from incredible clients! One in particular is very close to my heart. About six months after we opened, an older woman (in her 70s probably) came in and said that she had been stalking the store since we opened. She started by driving by, then parking in the parking lot, then going up and touching the door, and finally worked up her courage and came into the store. That day she bought her first vibrator. She left, and a few hours later she came back and bought two more! I think it's important to be able to meet people where they are and not expect them to jump in with both feet right away.  I have a great belief in people's ability to take care of themselves. People know what they need, we just need to give them the opportunity  to ask for it.
You're trapped on a desert island (that contains a magical tree which grows batteries and has an electrical outlet in the trunk). What 5 sex toys/products available from Self Serve  do you want with you?
(Follow the links to check out the products at one of my affiliate shops.)
Liquid Silk Lube
What is your favorite toy material? Why?
My favorite toy material is definitely VixSkin. It's incredible! It's non-porous, non-toxic, easy to disinfect, and made in a fair trade environment! (VixSkin is made of silicone).
What is the most popular item at Self Serve?
The most popular toy here is definitely the Form 2. It can be used during any kind of sex.
Any cool upcoming projects?
We're always developing new classes and workshops, which is so much fun! In terms of business development, we're getting a new POS (point of sale) system which will integrate our store and web inventory. We are also located in a city that has a significant Spanish-speaking population, so we have employees who speak Spanish and we're working on outreach projects to get our workshops into Spanish-speaking communities. We can't sit back and expect them to come to us – we want to get out into the community and build connections.
Extra credit:
What's on the Self Serve store soundtrack?
We're pretty eclectic here. Depending on which staff member is working, you might hear Indigo Girls, Latin music, or anything in between!

Big thank you to Ashley Manta for stepping in to handle some Superhero Sex Shop Tour duties for me!  
Self Serve Toys is located at
3904B Central Ave SE
Albuquerque, NM 87108
Find them online at www.selfservetoys.com
Twitter: @SelfServeToys
Self Serve Classes (including online classes!) and Events