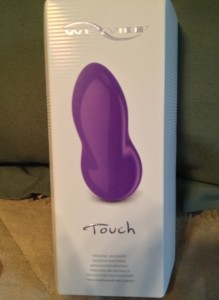 I'm traveling pretty light these days (seriously, I right now have so little clothing with me that it's slightly problematic) but I do, of course, still need to have toys with me (obviously) So, when I returned  from Catalyst to find that my awesome sponsors, We-Vibe had sent me the We-Vibe Touch to take along on my trip I was pretty excited.
So, what the heck is a We-Vibe Touch, you ask?  It's a rechargeable vibrator, one of two clitoral vibrators that We-Vibe makes (formerly three. Moment of silence for the discontinued – but beloved by many- Salsa) the other being the bullet-shaped, hard plastic Tango. In contrast the Touch is in a soft medical-grade silicone (soft like bendy in parts, not soft like squishy) shell and is -dare I say- more ergonomically designed. The thing practically begs to be held in the palm of your hand.
Because of that and because as Epiphora points out "The We-Vibe Touch doesn't photograph well at all. It looks like a damn potato."  I'm including this pic:
See, so nice in the palm of your hand!
Here are some quick We-Vibe Touch fun facts:
The Touch is 4 inches long and its maximum circumference is 4.75 inches.
It is covered in silicone, which I always love and is completely waterproof (it charges magnetically, no open ports!) which makes most folks say "you can take it in the hot tub!" but I'm apparently dorky because it make me say "so easy to wash it!"
There are 8 vibration modes and it seems to remember whichever one you left it on- so considerate.
It comes with a silky white pouch for storage- I recommend using it. While silicone is awesome, this particular kind of silicone can pick up dust!
The charger for the Touch is interchangeable with the Tango. This cut down on my charger packing.
Here's what you get with your We-Vibe Touch:
The Touch -obviously. In addition to purple it comes in magenta and teal.
Manual
Storage Pouch
Charging Cable
The round thing is important! The charging cable plugs into it and it magnetically attaches to the Touch for charging
So, go check it out! The Touch makes an excellent travel companion -even if it doesn't show up so great in the pictures!
NOTE: The Touch has been updated and is no longer made with this shiny silicone. It is now made with a silky, matte silicone that I much prefer.
Get a We-Vibe Touch here:
SheVibe, Good Vibrations, Early to Bed, Lovehoney, My Secret Luxury
Sponsorship funds have been provided by We-Vibe. Opinions expressed are those of the author and not indicative of opinions or positions of We-Vibe or Standard Innovations Inc.