When I was doing my shop visits in NYC I got a tip about a shop I hadn't heard of in Chicago (fun fact: while most everyone on the tour was great about making sure I was checking out the great shops they knew of, in one day in NYC I learned about two shops I had never even heard of!) Here's the scoop: Tulip Toy Gallery has a company motto of "We don't sell anything we wouldn't put into our bodies" and, frankly, the ability to rock my world!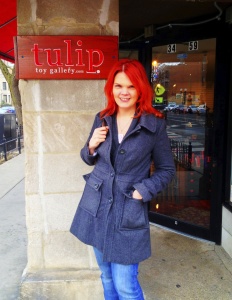 I have high sex shop standards (which you should have guessed by now) and I was a bit wary heading in but I, along with Zoe- one of my favorite writers from Life on the Swingset (thanks for coming shopping with me, Zoe!), stopped by the Boystown location on a Sunday afternoon – by Monday evening I had visited both locations twice. Yeah, it's safe to say Tulip won me over.
So, something you need to know right off is that one Tulip location is housed in the same building as the manufacturing facility for Vamp Silicone dildos. I credit this for these shops being like Dildo-palooza. Seriously, they are the only shop on my tour (that I can remember, correct me if I'm wrong here) where the dildos are the first thing you see upon entering the (seriously lovely) store. And there are so many of them! Tulip carries Tantus and  Vixen Creations but this is the spot for literally every iteration of Vamp you could imagine. All the styles (Vamp does some really cool angles that just seem awesome for strap-on play), all the colors (glitter!) both textures (soft and regular), – if Vamp makes it, Tulip probably has it. Additionally,
they keep out bowls of little silicone penises made from the silicone remnants- I bought a couple to demonstrate silicone textures to the folks over at Tea Time & Sex Chats and when Tulip's manager, Chris, got wind of my plan he loaded me up with a whole bag of them!
Enough about dildos. Tulip also has a terrific selection of high-quality toys of all kinds (vibrators, butt plugs, masturbation sleeves and tools to indulge most of you kinks) and everything is out to play with (including a Neon Wand, it was the only place that I saw that out to test. Zoe zapped me, true story.). Additionally, I found the following things about Tulip noteworthy: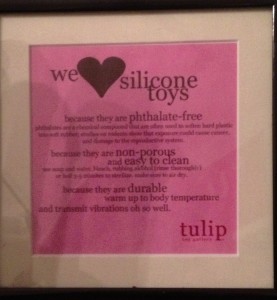 There's educational information on the tables throughout the store, which I always appreciate.
There a big selection of lingerie sets. It was pointed out to me that they are rather inexpensive (around $25) and explained thusly "So if you're doing a scene where you want to rip off your lingerie it looks good but you don't mind ripping it" I kind of loved that
This was the first place I started noticing the geographic differences in what shops offered. Now I will go ahead and point out that that's why I ask the "what's the most popular item at your shop?" question that everyone wants to wax philosophic about- yes, I know everyone's needs are different and popular doesn't matter but it's fascinating! In the mid-west price points were lower, dildos were shorter and oil-based lube was way more abundant!
Chris was kind enough to take some time to answer the Seven Superhero Sex Shop Questions Check it out!
What makes Tulip unique?
What makes Tulip unique, apart from the high quality of our toys, is our warm environment. We keep our stores clean and bright and comfy, so it feels like you're walking into your favorite coffee shop, or a friend's living room. We carry only body-safe materials and our staff is made up of knowledgeable, approachable individuals who really care about helping you find the best items for your needs.
Entering a sex shop for the first time can be daunting. Any advice to first time shoppers? 
Speaking of our staff, we all know coming into a sex shop for the first time can be daunting, and we try to make it as comfortable as possible. Our advice: If possible, do a little research beforehand so you have an idea what you're looking for. One of the benefits of shopping in an actual sex shop, is that you can pick up the toys, get a feel for different textures, turn them on to get a sense for the power, and ASK QUESTIONS. We are here to help, so don't be shy!
This reminds me to add: Thank you for what you said on your blog about shopping in local sex stores. It is so valuable to have a place to come and see toys and talk to a real person. If you value that, support it.
Any favorite moments/great stories?
Working in a sex store can prove rewarding. There aren't many jobs where you can discuss the pros and cons of different lubes with a total stranger. You have to be able to be really frank really quickly with all sorts of people, and you learn so much about how we interact when you break those boundaries regarding honest sex talk.
You're trapped on a desert island (that contains a magical tree which grows batteries and has an electrical outlet in the trunk). What 5 sex toys/products available from Tulip do you want with you? (Follow links to find items available from my affiliate shops) 
My Top five Tulip toys:
1) Fun Factory's Stronic Eins. It's new and it's wild! Unlike any toy we've experienced before.
2) The Aneros Helix Syn–just what Aneros needed, a little silicone to add some soft texture to their prostate massagers.
3) The Tenga Fliphole
4) Vamp Amos plug
5) Can't forget lube! Our choice: Sliquid Organic Silk.-This has recently become my new favorite!
What is your favorite toy material? Why? 
We love silicone for sex toy material: it comes in different textures, it warms to the body so nicely, transmits vibration well, and is easy to sanitize. We also love the dildos that accommodate bullet vibes or a suction cup!
What is the most popular item at Tulip? 
Our most popular item is the Talula G1 and G2 dildo family by Vamp. Named after the screen siren, these beauties boast a unique, 45 degree angle, mimicking the erect penis. They are at their best when snug in a harness (like the Spareparts Joque or Theo, for example) and come in beautiful colors, three different sizes, and your choice of soft or firm silicone.
Any cool upcoming projects? 
We are excited to launch our new website soon, so keep an eye on us! It will include How Tos and better sex guide written by Tulip's own sexperts.
Extra credit
What's on the Tulip store soundtrack?

And I love your bonus question! Tulip's music reflects the individuals who work here, and varies from a Smoov-E Pandora station to a playlist made mostly of Hunx and his Punx. We listen to a lot of Beyonce, Ella Fitzgerald, and the Velvet Underground. Some favorite songs to play at Tulip: Madonna's "Like a Virgin," Cole Porter's "Let's Do it," and Prince's "Kiss."
Tulip is located at
3459 N. Halsted Street (Near Wrigley Stadium in Boystown)         
Chicago, Illinois 60657