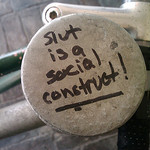 Last week a bunch of folks shared a fabulous video called The Psychology of Slut created by Kathryn Stamoulis, PhD. When I saw it I was writing a piece for the Good Vibes blog called "Cherry Picking" in which I discussed losing my virginity. The timing couldn't have been better. I spent some time thinking about how, especially when I was younger,  I had these really problematic view of virginity, sex, love, relationships that were largely rooted in the belief that above all else I had to make sure I wasn't labelled a "slut". I waited and waited for sex to happen in the "right", society sanctioned way and then once it did the fear still ruled my sexual function. Waiting for men to initiate, not expressing needs and desires, letting my sex life happen to me rather than taking an active role in building the life I wanted.
I think this is common and I wish I could tell you that, enlightened being that I am today I don't come up against it any more but I still do. I received some blowback from the piece I wrote a while back that revealed that my online dating profile indicated an interest in "casual sex". I have engaged in repeated conversations recently with folks who can't get their heads around the idea of not seeking out monogamy- my favorite involved someone asking me if I was sure that wasn't what I wanted "deep, deep, deep down" I was like "what? so deep I don't even know about it?"- I have even had a big "beating myself up" freak out about a medical ailment that I became convinced was an STI (there's a post coming on this incident- SPOILER ALERT- the ailment was in my eyes) The specter of the slut still pops up and catches me off guard. The big difference these days is that I don't care so much
There's a lot of talk about "re-claiming" the word "slut". Taking it back. Owning it as women. I don't know what I think of that. In some ways I love it- I think the SlutWalk movement has been amazing- but on the other hand I think it's still giving it too much power. Letting it matter too damn much.
Check out Dr. Stamoulis's awesome video and tell me what you think. What does slut mean to you?