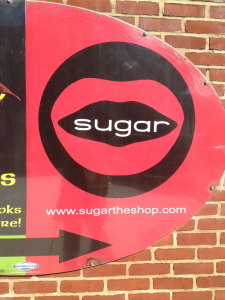 In April 2007 Baltimore, Maryland's Sugar opened and then stuff got awesome. Okay, so I'm over-simplifying a bit but this place is seriously cool. I could go on about the great stock (all the toys and products you'd want plus awesome body products, a ton of stuff that I only ever seen online before, the underwear from that amazing fake Victoria Secret campaign), the cool shop, the dog or the bathroom key that was attached to a butt plug but as awesome all of that was the thing that made Sugar so special was Jacq.
Okay, before you think I've just spun off into the crazy fangirl place I'll have you know I'm not the only one saying stuff like this. Here's my favorite snippet from the shop's Yelp page: "Sugar rules, especially their classes.  I just learned how to have a g-spot orgasm and it's easy as shit and I have Jacq Jones at Sugar to thank for this!!!!" That's pretty much reflective of the reviews Sugar gets.
When I came in to visit Jacq was working  so I got to see the woman herself in action and she is awesome! Over and over I saw customers go from giggling and nervous, to inquisitive, to happy and confident in their purchases. It was awesome. In the meantime, because obviously I was wandering around geeking out about everything, every few minutes Jacq would see me with an item and say something like "Isn't that cool?" and tell me stuff I never knew before. Amazing!
Okay, you probably want to now a bit about the actual shop. Located in an adorable Baltimore neighborhood (there's a giant plastic pink flamingo nearby…it's cooler than it sounds) going to Sugar feels being let in like on a cool secret. You enter in the back of the building (I couldn't find it, because I'm spazzy- there's signage and stuff!) and the shop itself is on the small side but once you get in -oh my goodness! There may not be a ton of space but they are making tremendous use of it. As I mentioned they were the place that I saw the most stuff that I had only ever seen online before. Whether it's a dildo, a butt plug, a vibrator,  flogger, a harness or really just about anything else, Sugar not only has it, they probably have a couple of options and can tell you all about them. In addition to the usual suspects there was a whole array of locally made bath and body products, which I just loved and an impressive collection of books.
As you probably got from the Yelp review, Sugar offers some great classes but they also offer home parties, private coaching and college presentations. Finally, in case you weren't entirely clear on the fact that Sugar wants to make sure you learn some stuff, they have this kick-ass page of sex info and this one of resources.
I don't know if I'm really conveying how much I loved this shop, so just to be clear, this place pretty much rocked my world. Also, it may have taken me until just this week to get why it's extra clever to name your sex shop "Sugar" in Baltimore – home of Domino Sugar…
The sex positive force behind it all, Jacq Jones, was kind enough to answer the Seven Superhero Sex Shop Questions! Check it out:
What makes Sugar unique?
We're unique in that my personality and biases, and those of our amazing staff, are reflected in many of our decisions and interactions. But we're not unique in that Sugar is a part of a movement that has a history reaching back to the 1974 when Dell Williams opened Eve's Garden in NYC.
Dell pioneered the concept of creating a space where women were safe, where toys were open and able to be touched and where staff was educated. That movement continued to grow with Betty Dodson and her work with female masturbation. In 1977, Good Vibrations opened in San Francisco. Unlike Eve's Garden, Good Vibes was open to people of all genders. In 1993, Babeland (formerly Toys In Babeland) opened in Seattle. Since then, other sex positive sex toy stores have popped up around the country. Both Babeland and Good Vibes have acted as incubators and teachers for many of the people working in the sex positive community today (including me. I worked at Babeland for several years in the early 00s).
As a sex positive, education focused, body safe sex toy store we put our values into practice each day. We work to create a space that provides education and toys in a shame free, sex positive, fun environment that helps people of all genders and orientations experience their own unique sexuality with shameless joy and passion.
We believe that consensual sex between adults is sacred, powerful and fun and should be celebrated and honored.  That by providing quality education and toys in a sex positive, fun atmosphere, we help to foster healthy sexuality.  In order to provide our customers with impeccable customer service we strive to create a work environment that is healthy and supportive of each and every member of the Sugar team.  Sugar also works to exist in the environment in a way that is sustainable and responsible.
Entering a sex shop for the first time can be daunting. Any advice to first time shoppers?
You should have seen me the first time I entered a sex toy store. I was beet red  (I'm a light skinned white person – when I blush, I BLUSH). I had to spend at least 15 minutes looking at the books before I could look at anything else. And the store was Babeland – totally not a scary place.
Walking into a sex toy store can be scary. We all carry so many ideas about what "that kind of store" will be like, or if it's ok to be in such a place. I'm here to tell you it's totally ok. It's also ok if you're nervous, or need to leave, or giggle, or if you feel so completely comfortable you never want to leave.
If you're in a sex positive store like Sugar, let the person at the counter know that's it's your first time and that you'd like some direction. And then take a breath. You're in good hands. That's why we're here.
If you don't have access to a sex positive store, try shopping online first. More traditional stores may not feel really welcoming to you and they may carry products that aren't actually safe to use on your body. Sex toys aren't regulated and some contain chemicals that are against the law to put in children's toys. How do you know if a toy is safe? Ask. The person helping you should be able to answer any question you have about the materials of their products. If the person helping you gives you a blank stare – leave.
And last but not least, buy some lube and use it. You won't be sorry.
Any favorite moments/great stories?
I'm constantly grateful and honored by the trust that our customers put in us. They regularly share information and questions that they wouldn't dare discuss with their best friend or their physician. We see women that haven't had an orgasm (yet!), men struggling with erectile disfunction, couples that have waited to have sex and want to make sure their first experience feels good, trans men buying their first packers, trans women and cis women recovering from surgery buying vaginal dilators – each customer gives us a gift by being willing to be vulnerable, share their story and let us help them find the thing they need. Sometimes all they need is a listening ear, or someone to let them know that they're ok, sometimes what then need is spend a bunch of money on some awesome toys for a really fun night. Each and every one is welcome.
You're trapped on a desert island (that contains a magical tree which grows batteries and has an electrical outlet in the trunk). What 5 sex toys/products available from Sugar do you want with you?
(Follow the links to check out the products at one of my associate shops.)
Is my spouse with me? Because if so, I'll want a Spare Parts Joque Harness and a VixSkin dildo.
If I'm alone, I'll need a Form 2 (Jimmy Jane), Luna Beads (Lelo) and a Pure Wand (njoy)
Alone or not, I'll also need Sliquid Sea lube. Lots and lots of Sliquid Sea lube.
What is your favorite toy material? Why?
Silicone or surgical steel. Silicone because it's versatile and sanitizable, surgical steel because it's slick and has weight
What is the most popular item at Sugar?
The WeVibe 3, followed by the everything I'm taking to the desert island! Shout out to my sponsor We-Vibe!
Any cool upcoming projects?
We are having the women from FORCE (www.upsettingrapeculture.com ) come to Hon Fest, a local street festival in our neighborhood, to help folks silk screen consent positive statements like "ask first" on underwear. (Like the awesome underwear I bought at Sugar!!) It's fun, folks love it, and it's a great way to get the conversation about consent started.
At the end of the day, consent is the cornerstone of everything we do. It (and lube) is key to not just safety, but to great sex.
Sugar is located at
1001 West 36th Street
Baltimore, MD 
Find them online at www.sugartheshop.com
Twitter: @SugarTheShop
Sugar Classes and Events