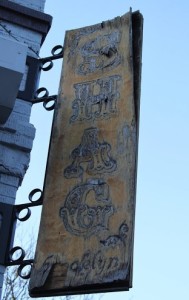 Some of the best parts of the Superhero Sex Shop Tour were the surprises. When I set out on the tour I had never heard of SHAG but then when I was in NYC doing shop visits a staffer at another shop said "If you are looking for good sex-positive places like us you should check out SHAG" I asked around, did some research, got a couple of glowing recommendations and voila! SHAG was added as a Superhero Sex Shop Tour Stop.
SHAG is interesting because it isn't strictly a sex shop. In fact, upon entering, you might not realize you're in a sex shop at all, the place is so full of cool gifts, jewelry, art and housewares (I was charmed by a set of pin-up girl sheets). Make no mistake though, there is a stellar selection of sex toys and products and an terrific array of workshops and events (seriously, some of the coolest class offerings I've seen!), it's just that this place does an awesome job of, as Debby Herbenick would say, making sex normal by creating a cool, fun funky spot where the shiny silver thing you see is as likely to be a cool ring as it is to be an NJoy Pure Plug.
With their cool vibe, awesome inventory, kick-ass classroom facility (seriously, giant classroom space!), commitment to local artist and designers and bad-ass sex positive mission SHAG is a new breed of sex shop and, frankly, one I think (or at least hope) we'll be seeing more of.
SHAG's owner Sam was kind enough to take some time to answer the Seven Superhero Sex Shop Questions, check it out:
What makes SHAG unique? 
SHAG is not just a sex shop – we are a "sexy shop" – this means that, in addition to toys and other sex goodies, we also carry loads of other things to make us all feel sexy – hats, bags, lingerie, jewelry, bath and body products…you get the idea.  We consider SHAG to be a "lifestyle" store, in which we are creating a culture that thrives on openness, creativity, education, and of course, sex :)
SHAG functions as a retail store,  fine art gallery, and event space. Virtually all of our inventory, from the art on the walls to our stock of retail goods, has been made by local artists. SHAG hosts educational programming for the public, including seminars and lectures addressing the complex issues of sexuality, gender, and relationships, as well as discussions on contemporary art and how it relates to our society.  SHAG offers art/sex-related classes focusing on body painting, Shibari Rope training, massage, Tantra, and other community-driven interests.  SHAG positions itself as a holistic facility for artists of all forms, including music, written word, performance art, dance, etc.The ultimate goal of SHAG is to offer our customers an open, inviting, and educated experience, allowing for positive exploration of sex and togetherness in all relationships.
Entering a sex shop for the first time can be daunting. Any advice to first time shoppers? 
I would say to research your local sex shop and know what you're walking into. Some sex shops are a little daunting to walk into, while others (like SHAG) strive to create a comfortable setting where questions can be answered and no judgements are passed. Sex shops that consider themselves "sex positive" usually try to make their customers feel a little more at home. I would also say that the person behind the counter has probably heard and seen most everything, so try not to be too shy if you have any questions regarding what you're looking for, how things work, etc – we are here to help!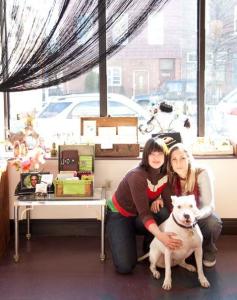 Any favorite moments/great stories? 
Yes! We get to give a lot of advice to our clients – people often come in with relationship issues, physical issues, and tons of questions about sexuality in general.  We try to help as much as possible, and it's amazing how people can sometimes really open up to a stranger about their personal lives – it's great! Aside from that, I would say that it is a reciprocal relationship with our customers – we help them to be more open about things, but they also teach us as well – we are learning every day.
One of our most proud moments was when a mother brought in her sixteen year old daughter and stated, "SHAG is the only place I would ever bring my daughter to buy her first vibrator"…awesome, thanks Mom! Love that! 
You're trapped on a desert island (that contains a magical tree which grows batteries and has an electrical outlet in the trunk). What 5 sex toys/products available from SHAG do you want with you?
(Follow the links to check out the products at one of my affiliate shops.)<
Wait, am I by myself or with a handsome desert island man? If I was by myself, I would definitely say the Lelo Ina – it is a "rabbit" type toy, although much better designed than your typical rabbit toy – it gives G-Spot and clitoral stimulation at the same time, and it is AWESOME. I would also make sure that I have my simple Tantus Silk – it's a soft silicone toy, non-vibrating, and it good for penetration…sometimes simple is the best way to go! Another toy I would have to have is the Je Joue Ami – while not so much an actual "toy", these weighted silicone balls are good for exercising your vaginal walls and pelvic floor – ladies, we need to keep these muscles strong, too, you know!
As for the last two toys – if I was with a handsome desert island man, I would not leave home without some Bondage Tape – this tape is so versatile. It can be used as a blindfold, a gag, or restraints (among other things), and it only sticks to itself – not to skin or hair. Pair that with a Sea Grape Massage Candle, and we'll never want to leave this island…
And wait! Can I add one more necessity?  That would be Crystal Delights hand blown glass butt plugs – they are beautiful just to look at, but also functional in the best possible ways ;)
What is your favorite toy material? Why? 
My favorite toy material is probably silicone – it comes in many different hardnesses – from incredibly pliable to almost rock hard, and it is non-porous (meaning that it does not harbor bacteria), body safe, and easy to clean.
What is the most popular item at SHAG? 
The most popular item at SHAG would have to be either the Lelo Ina (see above), the We Vibe (designed specifically for couples play), and guys – your Tenga Egg is probably the biggest seller of all! The Egg can be used as a masturbation sleeve for guys, for hand jobs if you're with a partner, and women can even turn it inside out to use it for clitoral stimulation…it's a great little invention.  Also, restraints and blindfolds are very popular, as I think that many people are becoming increasingly interested in exploring their sexuality in different ways – people are becoming aware that liking "kinky" sex doesn't mean all whips and chains – there are varying degrees of pleasure that can result in the utmost satisfaction.
Any cool upcoming projects?
Yes! On May 22nd Joanna Angel (founder of The Burning Angels) will be at SHAG screening her latest flick, "Barista" – there will be a Q&A to follow the screening, and this event is a great opportunity to chat with one of the coolest, most sex positive porn stars around.
And then in June we will be partnering up with Audio Smut, which has a monthly radio program full of smutty readings and other arts based elements – they usually have a great line up of special performances and art installations, which surround certain sexy themes – it is one of our most favorite events!
Extra credit: What's on the SHAG store soundtrack?
Ha ha, great question. We have our own special DJ here at SHAG – her name is Pandora :) Hey! I thought she worked for me! Some of her favorite playlists are, depending on the day, Bluegrass and/or old school Country, Fitz & The Tantrums, Passion Pit, The Black Keys (of course), Patsy Cline, and on rainy days she seems to play a lot of Billie Holiday and/or Amy Winehouse.
SHAG is located at:
108 Roebling Street @ N. 6th Street  
Brooklyn, NY 11211