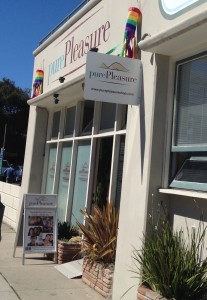 NOTE: Pure Pleasure is one of MANY Superhero Sex Shops to have moved after my visit (seriously, at least 5 did this). The images in this piece are from the old location, I haven't seen the new one but it sounds AWESOME. 
Some of the shops on the tour have been places I've known of for years and visiting them felt like finally meeting a long-time penpal- that strange feeling of finally getting to see someone who I already felt I knew so well. Other shops have been knew to me, found by word-of-mouth recommendations and internet research but still mysterious to me – kind of like a blind date who you google beforehand (never happened!). This is what Pure Pleasure was like for me and let me tell you- this shop makes an awesome date!
Pure Pleasure was opened in 2008 by the mother/daughter team of Janis and Amy Baldwin aiming to fill the (in their own words) "need for a more inviting sex shop within the Santa Cruz community". I always think that one of the things that really makes a shop great is its ability to serve its particular community and Pure Pleasure seems to be doing this wonderfully. This shop complements the neighborhood it lives in. It seems to have created a safe, comfortable space for people to come learn and shop that fits seamlessly with all that is around it. Rather than being a destination shop, Pure Pleasure seriously feels like a place you might just regularly plan to stop in when you hit the farmers' market down the street.
Also, I feel like Pure Pleasure is a small shop that packs a big punch. They offer a huge array of toys, lubes, books and apparel (though I know they were cutting back on apparel- I so regret not buying a corset!) and services- classes are varied and frequent and the website features a Q & A and streaming sex ed videos. There's a ton to learn and do at this awesome gem of a shop!
Amy, one of Pure Pleasure's owners, was kind enough to answer the Seven Superhero Sex Shop Questions for us! Check it out:
What makes Pure Pleasure unique?
We area mother-daughter pleasure boutique specializing in high-quality toys and sex-ed classes. We do not carry anything toxic, and are also a certified Green Business!
 Any advice to first time shoppers?
Well when it comes to first time vibrators, we always say start with something with multiple speeds, inexpensive but sturdy, and can be used internally and externally so you can figure out exactly what you like. And don't be afraid to ask the sales people. That's what we are here for!
 Any favorite moments/great stories?
My most memorable moment on the sales floor here was when an 80+ woman came in to buy her first vibrator after her husband had passed. And she had NEVER had an orgasm (or at least the conventional idea of what an orgasm is)! I felt so honored to help her in along this journey, and so proud of her for taking her sexual pleasure into her own hands (literally and figuratively ;)).
You're trapped on a desert island (that contains a magical tree which grows batteries and has an electrical outlet in the trunk). What 5 sex toys/products available from your shop do you want with you?
(Follow the links to check out the products at one of my affiliate shops.)
Sensuous Beauty Love Balm (coconut oil-based lube/massage oil)
Mystic Wand (by Vibratex)
Njoy Stainless steel plug (size medium)
Go-Girl pee-while-you-stand-funnel (we are on a island, right?)
Bondage Tape (so many uses)
What is your favorite toy material? Why
Depends on what I am doing. I love stainless steel for anything anal or g-spot. It is heavy/weighted, warms up and cools down + retains body heat well, works with any lube, looks beautiful, and will NEVER break!
What is the most popular item in your shop?
Hmmmm…well vibrators sell the best, and then lube. I would say the Mystic Wand and Liquid Silk lubricant.
Any cool upcoming projects?
Plenty of fun and informative sex-ed classes! I just taught "Oral Sex 101: Giving Him Mind-Blowing Pleasure" to a great group (sold out, in fact!). Next up is "Kink 101" for the newbies, and "Anal 101" for Anal August ;)
Extra credit:
What's on your shop soundtrack?
3-11 Porter, Thievery Corporation, Zero 7
Tool Shed is located at
111 Cooper St,
Santa Cruz, CA 95060
Find them online at www.purepleasureshop.com
Twitter: @purepleasure
Pure Pleasure Classes and Events