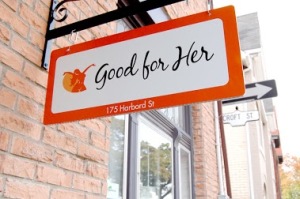 One of my favorite Superhero Sex Shop Tour stories is the one where I emailed out the dates for the tour and Carlyle Jansen, founder of Toronto's Good For Her mentioned that it was unfortunate that I was going to miss the Feminist Porn Awards by two weeks and voila! my trip was moved back two weeks because, come on! Feminist Porn Awards! Anyway, while Good For Her are indeed the people that bring you the Feminist Porn Awards, there's a whole lot more to love in this lovely little shop catering to "women and their admirers"
Good For Her was founded by Carlyle Jansen after an impromptu sex workshop at her sister's bridal shower led to more workshops, which led to more demand. The shop is super cozy and welcoming. Being in Good For Her you get the feeling that a lot of thought has gone into creating a space where people feel safe and comfortable exploring and learning. This paired with the fact that the shop is just beautiful makes this feel like a place I would bring anyone from my (fictional at this point) young niece to my (now deceased) grandma – I know that sounded funny but I mean it, I think this shop could make anyone feel at ease shopping for and learning about sex.
In addition to a great selection of toys Good For You has an impressive library of books, a terrific array of classes (some offered online!) and a impressive selection of DVDs- I definitely spent a lot of time just wandering around taking it all in!
The fabulous Carlyle Jansen was kind enough to answer the Seven Superhero Sex Shop Questions– and she did an amazing job with them! Seriously, she did most of my job for me on this write -up. Check out her answers to get a better idea of just how wonderful Good For Her is:
What makes Good For Her unique?
Good For Her is a sexuality shop and education centre. Our passion is education: we want to make sex accessible to everyone. We want to help folks make informed choices about their sexuality: which toys are deemed safe, what might be a good toy, book or DVD based on their needs, experiences and current inventory at home. We offer more workshops than we sometimes can fit into a month! We love facilitators from away but also have found that Toronto offers a lot of quality sex educators who can help folks learn on a diversity of topics, from oral sex to painful sex to deepening intimacy with a partner. We offer "Women and Trans-only Hours" for two hours on Sundays. This is for women and/or trans-identified people who feel more comfortable talking about and shopping for sexuality related items in a gender- safe space. We also offer private appointments for those who prefer remaining anonymous. We also now offer online, interactive educational workshops. People can tune in and learn from anywhere!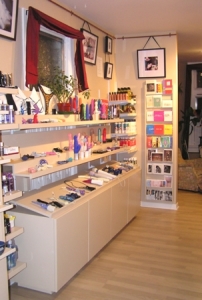 Our store is designed to feel comfortable- as we know that many do not feel comfortable walking into a sexuality shop. We are in a house on an off-the-beaten-path shopping district, Our outside is nondescript and unassuming, we offer tea and water to our patrons, our inside is welcoming and warm. Our desire is to make people feel at home and at ease. In 2006, we recognized that the world of porn was changing and that more women, trans, racialized peoples, who have been traditionally marginalized in porn, were making porn with feminist principles- and the porn was hot! We began the Feminist Porn Awards as a way of celebrating, recognizing and endorsing films that people who were looking for a difference could embrace.
Any advice to first time shoppers?
a.Don't go when you are in a rush! Many folks are surprised at how time flies with so much to look at and touch.
b. Know that you are the authority on your body, and although you may learn some new things in general when you walk into a store, your unique needs are best understood by you.
c. Many folks feel "undereducated" about sex, which is ok, but sometimes holds us back. There are no "stupid" questions and please do not feel shy or ashamed to ask about anything. One strategy is to ask for a tour of a section you are interested in- that way you get lots of information without having to reveal what you do already or don't already know.
d.If you have something specific that you would like to purchase, you can do a little research before you walk in- read on the website and other resources about the topic, so that you are more empowered. It can also help you gauge whether the staff are knowledgeable or simply trying to sell you something expensive. Beware of any talk of guarantees of pleasure- no one can promise any results, but a skilled salesperson can help you figure out which is the most likely to suit your needs. It is also ok to just be curious and walk in to explore!
e. Go with a friend or a partner if that helps you to feel more comfortable. You can learn and explore together and have lots of great stories to tell afterwards about how much fun you shared.
Any favorite moments/great stories?
There are SO many!
a. inspiring ones: where someone is no longer willing to settle for the mediocre (or even unpleasurable) status quo and decides to take control of their lives- sometimes bravely inviting a partner into the adventure- and discovering a whole new world and freedom has opened up for them
b. sad ones: where in the course of talking to the customer, it is clear that they are in an unhealthy relationship with few resources or their relationship is on the brink because of sexual issues or they are unable to bring themselves to take a risk out of fear.
c. funny ones:  stories of sex toys left out on hotel beds and returning to find that the staff had come and turn down the bed for them- and they toys were left intact, new adventures that had funny unintended outcomes.
d. tender ones:  daughters and mothers talking about sex for the first time openly; a customer buys the first toy for their partner of 40 years, a little nervous but earnest and gentle with a strong desire to bring pleasure to the relationship
e. aha ones: where someone realizes that they are "normal" in terms of how they orgasm (ie not having an orgasm during intercourse despite what the partner's exes "were able to" do), that their ejaculate is not pee, that their fantasies are not "bad" or "wrong", when they finally get the answer in a workshop as to why something specific has been not/ happening to them all these years.
You're trapped on a desert island (that contains a magical tree which grows batteries and has an electrical outlet in the trunk). What 5 sex toys/products available from Good For Her do you want with you?
(use links to find products at the site of one of my affiliates)
Hitachi Magic Wand, Crystal Wand Glass toy, Pjur silicone lubricant, Stronic Eins, Aslan leather 
What is your favorite toy material? Why?
I love silicone- I like firm silicone for pressure with give for g-spot stimulation
What is the most popular item at Good For Her?
Lelo Gigi- great all-round toy for solo, partner, internal, external, male, female, oral, works on lots of different kinds of bodies, rechargeable, 10 year warranty, wide range of intensities and pulses.
Any cool upcoming projects?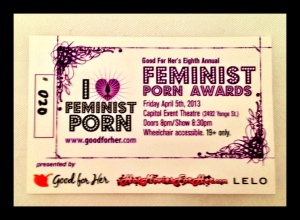 The Feminist Porn Awards! As I mentioned, I got to go to the FPAs and it was awe-some!Online educational videos on everything from to how to enjoy butt play to dealing with vaginismus. Spreading the educational work far and wide!
Extra credit: 
 What's on the Good For Her store soundtrack?
Slacker radio Indie Chill
Good For Her is located at
175 Harbord St.
Toronto, ON
Find them online at www.goodforher.com
Twitter: @goodforher
Good For Her Classes and Events