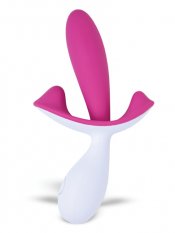 Okay folks, we're coming up on Valentine's Day. I've mentioned before that this is not one of my favorite things. But I do like you folks a whole lot and the fabulous folks at OhMiBod were generous enough to provide me with something else I like a whole lot to give to one of you – The OhMiBod Lovelife Adventure!! As you may recall, I really enjoy this awesome triple stimulation toy (it's got 3 motors!!). It was even one of my 2013 Favorite Things! I'm really excited to have one to give to one of my lucky readers- after all, you folks are the best valentine a girl could ask for.
As always, it's super-simple- just follow the instructions below. I will pull a winner at 9pm PST on February 13th.
Thank you to OhMiBod for providing the Adventure! I heart you!