---
Come As You Are closed its brick and mortar shop in 2016 but continues to be fabulous online. The write up below refers to my 2013 visit to the old CAYA location.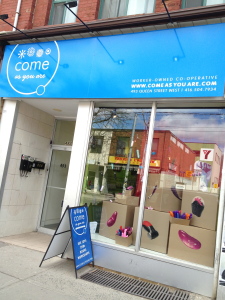 While all of the shops on the Superhero Sex Shop Tour have things that make them special and unique, Toronto's Come As You Are is the one that is most notably different from the rest. How so? Founded is 1997, Come As You Are is worker owned and operated by Annanda DeSilva, Sarah Forbes-Roberts, Noah Kloeze, and Jack Lamon and is the only cooperatively run sex shop in the world. That's not the only thing that's special about this place though. I really just love Come As You Are.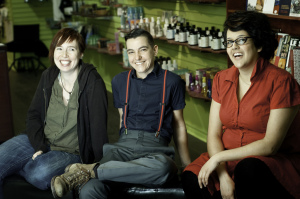 Frankly, a lot of people love this place. It's worth noting that a week prior to my visit, CAYA found itself in a tough spot financially and the future of the shop was in danger. They did something really awesome, they openly and honestly reached out to their customers who, in turn, showed up, spread the word and otherwise banded together to support this amazing local business.
If you read often, you know that getting me teary-eyed is no major feat and so you probably won't at all be surprised to learn that after the dramatic near-closure/massive show of community support that had just happened I was so thrilled get to the shop and see it alive and well that, walking up to the door I, for real, got all choked up about it.
Shut up.
Anyway, this place is outstanding. The selection is amazing and displayed in cool ways (There was an acrylic dildo out to test Tenga eggs on! I bought a Gee-Whiz that was displayed on a rack made with pool balls!) Education is everywhere from the seemingly endless supply of brochures on everything from toy care to painful sex, to the large library (seriously, it's huge), to cool workshops, to the website which has an awesome amount of sex information (including the brochures) – check out this menu! I'm pretty convinced that if you want to buy it or learn about it, no matter what "it" is, Come As You Are can totally hook you up.
I always say it takes three things to make a Superhero Sex Shop: high-quality, body-safe toys (check!), accurate education (check!) and awesome experiences – let's talk about that last part for a minute. I only really got to talk to one of the members of the Come As You Are team but if my experience is anything to go by, these
people are amazing and pretty much bring it on the "awesome experience" front. Seriously, I had the best time talking to Jack! I have no qualms with gushing about that. We talked toys, shops, Toronto – it was so awesome and I left thinking "everyone should be lucky enough to find a Jack when they go sex shopping" I heart Jack and strongly suspect that everyone else at Come As You Are is probably just as awesome. This place is so welcoming, so inclusive, so friendly and so comfortable I seriously didn't want to leave.
To give you a little better idea of what life is like at Come As You Are, Sarah was kind enough to take the time to answer the Seven Superhero Sex Shop Questions, check it out:

 What makes Come As You Are unique?
What makes us unique is our approach and our worker-owned co-operative status (only co-operative sex shop in the world!). Our approach is one of respect openness and non-judgemental. We work really hard to create a comfortable and safe space for folks to explore their sexuality no matter what that means. We call ourselves the anti-experts because we believe we are constantly learning and sex is so individual you can only really know yourself. We are a worker owned co-operative so we truly run the shop as a democracy with no single boss – we all have an equal stake in great customer service and keeping our customers happy. Here's a link to our core values.
Entering a sex shop for the first time can be daunting. Any advice to first time shoppers?
Advice for first time shoppers has changed over the years. My advice now is more tech savvy. Check out a company's website and make sure you agree with their politics and stand on sex and sexuality. A good sex shop should welcome you when you come in the door and be willing to answer lots of questions (or let you browse quietly on your own if you don't feel comfortable right away). It's takes everyone a different amount of time to get comfortable in a new space so don't feel rushed. Sometimes if folks are interested in a new kind of toy they might decide to get something less expensive the first time to check out. It's hard to know much about toys until you try one and everyone is different. Sometimes it is just the matter of trying one to then figure out what you like and you don't like. There is not one sex toy for everyone so a best-selling toy doesn't mean that it is the right toy for you.
Any favorite moments/great stories?
Yes the reason we've been doing this for so long (sixteen years) is that we adore our customers and feel we are doing a social good by providing space and support around sex and sexuality. One of our favourite stories (and we're very limited by what we can tell) is a customer who came in to buy her first vibrator who was older (maybe 70's) and we showed her some "starter models" but she went right for the solid gold vibrator saying "she had been waiting this long…she wanted the most glamorous". Damn right.
You're trapped on a desert island (that contains a magical tree which grows batteries and has an electrical outlet in the trunk). What 5 sex toys/products available from Come As You Are do you want with you? (Follow the links to check out the products at one of my affiliiate shops.)
Hitachi Magic Wand (good for back massage too), Canadian made Hathor lube, Best Bondage Erotica 2013, handmade rope (useful for so many things), and Sir Richard vegan condoms (also could be useful in a variety of situations).
What is your favorite toy material? Why?
We love non-porous and natural materials like silicone, glass, stainless steel and wood. But tried and true hard plastic is a great conductor of vibration and good for the budget conscious too. 

What's the most popular item at Come As You Are?
Everything tends to sell pretty well. It speaks to the fact that everyone has different bodies and different desires. Of course we are very selective about what we carry and order in samples with it in mind to try to break them. If we find a functional flaw like a switch that doesn't work etc. Also we try to carry a wide range of product that appeals to different tastes and functions because many of us have disabilities and some toys are just not made with us in mind. There's a million great sex toy ideas out there and definitely huge gaps in the industry.
Any cool upcoming events?
We have Ducky Doolittle visiting in May from NYC. She's the author of Sex with the Lights On and just the warmest sex educator you'll ever be lucky to meet. She teaching a whole series of workshops including "the art & nature of being sexy".
So, I got this up too late for Ducky's workshop but there is some awesome stuff coming up at CAYA in June including a workshop called "For the Love of Sounding" So cool. 
Extra credit:
What's on the Come As You Are store soundtrack?
Rufus Wainwright, Flaming Lips, Amanda Palmer, Jean Grae.