and How I'm Going to Help You Find Them
---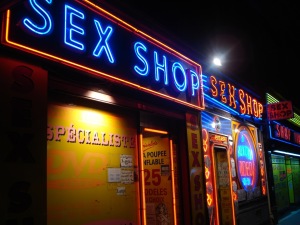 Someone recently got snarky with me when I called a shop "sex positive". Their take on it was "no sex shop is anti-sex" and I thought "yeah, so you'd think…" I admit it, I'm a complete sex store snob. I know I have been in bad shops.  I think my 1st experience may even have been a bad shop but I really don't remember them. For as long as I can remember I've patronized good places. In my early 20s, I think via the Bust Guide to the New Girl Order via Cunt, A Declaration of Independence*, I discovered the existence of  a place called Babes in Toyland,  which we now know as Babeland.  An awesome girl with a pierced nose spent 20 minutes helping me find the right lube and from then on I was hooked.  When I moved to Boston a small local sex shop had just closed and people were really upset but then it was announced that it was going to reopen as a  Good Vibrations and I was  ecstatic.
I really take the good sex  shop experience for granted. I'm used to an aesthetically pleasing, well-lit environment with tons of stuff out to play with and touch. I'm used to body-safe materials (to be fair, I've only gotten knowledgeable about that in the last year but now I'm a snob- give me silicone or give me death!) I'm used to learning when I shop. I'm used to being comfortable (hell,  recently joked that with my current feelings of being ready to move on,  the only place I feel really comfortable these days is Good Vibrations) I'm used to happy sex shopping! This was illustrated to me the other day when I went directly from Good Vibrations to another local Boston sex shop. I had such a good time at Good Vibes talking with the staff about different products, different materials, what things we liked, even joking about how this one product that I was unsure about I would absolutely have bought if it had been available in tie-dye (seriously see my She Bop post– should have bought the tie-dye  Vixen dildo!). I was feeling all sex–positive giddy and had some time to kill before work and some more of my pretty business cards to drop off so I decided to drop into the little sex shop around the corner from work that I've never actually been in. While I was at it I figured I'd check to see if they had the cute little novelty hand vibrator thing that I've been checking out online the day before.
I literally bopped down the stairs to this place. There were only 2 people in the long, narrow, store so I looked around a bit on my own. A quick survey revealed that we were not in sex-positive Kansas anymore. Every single toy was tightly packaged – nothing out to test or touch. This wasn't a huge concern for me though because it quickly became clear that this particular shop was more concerned with pretty colors than body-safe materials. Bright pink jelly was the order of the day- there was nothing in the place I would encourage anyone to touch their genitals with (at least not without a condom over it -jelly is super porous and never truly gets clean. Apart from just sounding icky, that means it can harbor bacteria. Here's some information about sex toy materials.) The lube selection was was glycerin central (for lots of women that's like buying a yeast infection in a bottle – although I found a hilarious post from a lube company that uses glycerin that begs to differ- this awesome post from The CSPH gives you the skinny) and they were stocked side by side with numbing products (Please don't use these. ever! Why? I'll let Early to Bed field that one!)
Anyway, the other customer left and the salesman asked me if I was looking for anything in particular and, as I mentioned there was one specific item I was looking for so I told this gentleman exactly what it was and here's where it got weird. They didn't have it, which, as it was kind of random, wasn't surprising but it was the way this gentleman dealt with the situation that was odd to me. He kept demanding to know why it was important that it be this particular thing. Why couldn't I just use any of the other things that he thought would work just as well? Note I said demanding. There was no discussion. No trying to figure out why I wanted this particular thing, what about it was important to me, what exactly I was looking for from it. This man was in full-on "make a sale, any sale" mode. It was very aggressive.It was then that I realized I was alone in this long, narrow, dark basement store with this man* and I suddenly felt really uncomfortable and wanted to leave. It clicked for me that this is what people are talking about when they call sex shops 'sleazy'.
That's the difference, that's why it matters, that's what makes some shops call themselves "sex positive" or even "woman-friendly". Sure that shop said "sex", it sold things that were ostensibly for use with the genitals but it certainly didn't seem to hold the act or its participants in very high regard. Megan Andelloux says "Sex is play time for grown-ups", that being the case shouldn't your toy store be happy place, not one that makes you feel icky about it? While we're on the sex as play time analogy, have you ever noticed that Toys R Us doesn't sell "Baby's First Bag of Broken Glass Shards"? How fast would folks be on the news trying to put them out of business for selling something that unsafe? However all over the country shops are selling "Bright Pink Jelly Wand of Bacteria-Laden Chemicals for Inserting in You Vagina" Shouldn't you be shopping somewhere that provides you safe, quality materials, not potentially harmful crap? Finally, sex is something natural and fun that we all do, don't you want to shop somewhere where they are willing to talk to you about it, about how to enjoy your products about how to improve your play time rather than somewhere where they just want your money and couldn't care less if you throw "Barbie's Dream Jelly Dildo with Glass Shards" immediately in the trash? Don't settle for bad sex shopping! You deserve healthy materials, quality education and great experiences!
I want you to be able to find great, positive sexual resources and here's what I'm going to do to help: I had so much fun doing the feature on She Bop a few weeks ago, I have visits to 4 other shops in the works and I'm so excited to share those with you! (UPDATE: As of 3/17/14 I have visited 37 shops in 13 states and 2 countries) I will continue to gather information on the shops I can't get to (the Progressive Pleasure Club is an awesome group of independent shops that all sound great!)  my site has always featured a page called "Continuing Sex Ed" that showcases awesome shops with cool classes. I'm re-christening that page "Bedhead Approved Shopping" (edit 8/17 this page is now called "Superhero Sex Shops" I promise to not change it anymore. It is also the internet's most comprehensive listing of sex positive retail establishments) and as I will be putting all of the information I find there. In addition to shops I will also keep you abreast of online companies who offer quality sexual products.
So, no sex shopping that makes you feel icky! If you have questions or want a tip, leave a comment, hit me on twitter or send me a contact request. I promise I'll answer! Happy sexy shopping!
*I'm not saying men in shops are bad, this one was aggressive and weird and I was extremely uncomfortable being alone in the shop with him.
 ¹Photo 1 by ricardo.martins on Flickr
²Photo 2 by stagshop on Flickr
*It took me almost an entire year to figure that out.