I was so excited to go to Milwaukee. I thought I was going to hit jukeboxes and put gloves on beer bottles and other people thought I was going to go to this place. The one thing we were all in agreement about was that I would be visiting Tool Shed. Well, due to rain worthy of ark building only one of those things happened but my visit to Tool Shed was so awesome that I forgot everything else anyway. Tool Shed is its own reason to go to Milwaukee.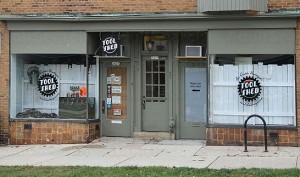 I had the best time at Tool Shed! Sadly, owner Laura Anne Stuart (who is super-cool) was out of town for my visit but Lucky and Chris showed me around, filled me in and were pretty much awesome.
The first thing you notice in Tool Shed is that they are making tremendous use of the space! There is an extensive library (it doesn't look huge but when you realize that there's only one or two of each title it becomes clear just how many titles they carry), a impressive collection lingerie and an even more impressive (at least to me) collection of mens' underwear, a huge array of vibrators – including a great box of "intro to vibes" vibrators where I first discovered this (surprisingly powerful for an inexpensive battery powered vibe!) and a great We-Vibe display complete with videos- Lucky and I spent quite a while playing with the We-Vibe Thrill!
There's a tremendous selection of dildos and plugs (complete with hand-made cozies!) a huge collection of lube (and a sink for washing it off!) and a ton of awesome bondage & kink paraphernalia (positively described by one shopper as  "kink overload")
Beyond all the sexy stuff, Tool Shed has a small gallery where they were hosting a Subversive Stitches show while I was there (There was a cross stitch that said "Nerds Fuck Harder" which had already been sold. If you think that I wouldn't have bought it if available you are very, very wrong) and an assortment of gift-type items (it's cooler than I'm making it sound) I got my brother some beer soap which caused him to say "This is awesome and probably the only thing you could have brought me back from your tour that wouldn't have been weird"
The thing that was most noteworthy to me about Tool Shed though was, even though it was super quiet while I was there (remember, raining sideways) there was a steady stream of folks who just popped in to pick up something, like how I would with my local grocery store. My point being Tool Shed seems to have created a space where people feel comfortable and safe and know "that's where I can get ____" It felt like the neighborhood grocery store of sex. Amazing.
Like many of the shops Tool Shed offers classes and workshops. I missed a cool Tantra class by one day! Check out their schedule here.
Laura was kind enough to take the time to answer the Seven Superhero Sex Shop Questions. Check it out:
What makes Tool Shed unique?
We're proud to be part of the Progressive Pleasure Club, a network of feminist stores in the US and Canada, and I still think that each of our stores is unique to our respective cities – you can't find a sex-positive store on every corner. We try to carry locally-made products when we can (like floggers, paddles, rope, massage oils, and bath bombs). Milwaukee pride! We specialize in products for people on the transmasculine spectrum and design and make some of our own gear for soft packing (the Tool Belt). We're the only store in Milwaukee that carries Andrew Christian underwear, and we have a growing gay male customer base that comes in for that and other hard-to-find cult products like Oxballs cock gear and Spunk lube. I think we've helped put Milwaukee on the map as a destination for sexuality educators and I am really proud that authors and filmmakers reach out to us when they are planning a trip to the Midwest.
Entering a sex shop for the first time can be daunting. Any advice to first time shoppers?
We've tried to make this process easier for folks. We have a short video tour of the store and interview with me  up on our website, so that people can see what it's like before coming in. We also try to make it a little less intimidating for people by having things like books and lingerie near the entrance of the store – nothing too scary. We are all sure to greet people as they come in and make it clear that we're available to answer questions. I think it's our responsibility to make our shop as welcoming as possible and create a safe place for people to explore. I would tell first-time shoppers to absolutely not be afraid to ask questions to be sure you're getting what you want. I would also remind people to be respectful of the space – sometimes if customers are nervous they giggle or make fun of products that we sell, and if we sell it, it's because someone uses it – so keep in mind that you may be inadvertently making someone feel ashamed. It's fine to be a little nervous, but don't manifest that by making jokes at others' expense.

Any favorite moments/great stories?
I think everyone in the store has had moments where we feel that we've changed someone's life for the better, whether it's helping someone get the information or tools they need to have their first orgasm, helping someone pick out products like binders or packers that take them a step closer to their authentic gender expression, seeing couples talk about desires that they may never have mentioned before while they shop…there's a lot of transformation and growth that happens. Even in places that seem like they wouldn't be ideal settings for education, like the in-store bachelorette parties that we do, I see friends start to talk to each other and ask questions about sex in ways they probably haven't before, and it reduces stigma and helps people realize that they're not alone in their experiences.
You're trapped on a desert island (that contains a magical tree which grows batteries and has an electrical outlet in the trunk). What 5 sex toys/products available from Tool Shed do you want with you?

 
We usually don't make personal product recommendations at the Tool Shed… So, instead of simply listing my top five toys, I asked the staff to each anonymously describe one item that they love, if they wanted to. Here's what they shared (Follow the links to check out the products at one of my affiliate shops.):
"On my desert island, I would have to have the Lelo Liv. It's strong, silent, and green-friendly. It can be used internally and externally. It also has multiple speeds and pulses. It is a rock star toy!"
 "Even before I started working here, I had a crazy assortment of Vixen VixSkin dildos. I think my favorite is the Lonestar. Before there was widespread knowledge about toxic toys and phthalates, I used to like cyberskin toys. I'm so glad that Vixen created a cushy, realistic line of toys that are body-safe. They're expensive, but worth it."

 

 "I would bring the Hitachi Magic Wand because it's been a reliable, powerful toy for the past seven years, and that's saying something for a sex toy. It never lets me down or bores me."
 "If I were going anywhere for longer than a couple of nights, the Mini Hummer would have to come with me. As a matter of fact, I actually have a spare for travel purposes. It's affordable, quiet, powerful and reliable."
 "I couldn't survive on a desert island without lube – it's essential for any kind of sex.  The longer I worked here, the more I became aware of harmful ingredients like glycerin and parabens in lubes. Even Liquid Silk, which a lot of people come in asking for, has parabens and propylene glycol. My current favorite lubes (which don't have these irritating ingredients) are Sliquid Sea and Good Clean Love Lavender Rose."
What is your favorite toy material? Why?
I guess I would have to say silicone, because it's so versatile – you can make vibes, dildos, butt plugs and even floggers out of it, and you can really vary the density and surface texture to get a lot of different sensations out of this one material. Of course, it's also non-toxic, non-porous, easy to sterilize, durable, and all that good stuff.
What is the most popular item at Tool Shed?
If you're talking sheer sales volume, since the beginning of 2013, condoms are our best-selling item. We have a mix-and-match "condom bar" where people can buy just one of any type of condom or an assortment of any four for $2.00. We specialize in hard-to-find condoms, such as vegan, non-latex, smaller sizes, and larger sizes. Everyone's different, and fit and feel are very important, so I want people to be able to try a bunch of different kinds without spending a lot of money. It's really important to me to have affordable safer sex supplies (we also carry latex and polyurethane dams, insertable Female Condoms, and nitrile gloves).
 Any cool upcoming projects?
Our education coordinator, Lucky Tomaszek, has been working with us since last fall and has hugely increased the volume of our in-store events. She is amazing. Lee Harrington is teaching with us in May, and in June, Aislinn Emirzian will stop by to promote her new book, The Ultimate Guide to Prostate Pleasure.
These are not Tool Shed projects, but I want to recognize the incredible creative work that our staff does. Ashley Altadonna has a film company called Tall Lady Pictures and is working on a film called Making the Cut, which explores the financial and social barriers faced by trans people who want to have gender confirmation surgery. Christopher Wilde is one of the founders of the Queer Zine Archive Project, which preserves the otherwise ephemeral history documented in handmade zines past and present. Lyndzi Miller runs the Young Milwaukee Poly Group, is a member of the Brew City Bombshells burlesque troupe (which the Tool Shed is proud to sponsor), hand-dyes her own line of geek-themed yarns under the name Lady Purl, and creates subversive crafts (Madison Young purchased a hand-knit dildo cozy that she made!). Basically, our staff is fucking awesome, and we are lucky to have them as part of our Tool Shed family. They are a testament to how vibrant Milwaukee is.
Extra credit:
What's on the Tool Shed store soundtrack?
This depends on who's working! I like to play Motown and classic soul, which I refer to as our "magic music" – everyone knows these songs and sings or dances along to them, regardless of age or race. It puts people in a good mood. Lyndzi plays Tegan and Sara or Lana Del Rey. Chris enjoys 1979 – 1987 era Prince (and put together an all-Prince playlist for the Redhead Bedhead's visit! Yep, it true! Best moment? When I was calling for a cab back to my hotel – I'm not obscenely lazy, I swear, again, it was raining sideways- and the dispatcher said "wow, you're getting down over there, huh?"), Billie Holliday and Ella Fitzgerald, 1980s New Wave, or queercore. Ashley, who used to front a band (and in fact played with this band at her own wedding while still wearing her poufy wedding dress, making her the most badass bride ever), likes Le Tigre, French pop music from the 1960s, Laura Veirs, Motown, Riot Grrrl, or April March. Lucky prefers the eclectic mix of the Lady Marmalade station on Pandora Radio and is a known Brandi Carlile fangirl.
Thank you Tool Shed for being so awesome and showing me a great time!
Oh and as for what I did for dinner that night (since I didn't take everybody's recommendation) Lucky tipped me off to an awesome delivery service that brought a bad-ass meal to my hotel room door while I hung out in comfy pants and my awesome Tool Shed t-shirt!
Tool Shed is located at
2427 N Murray Ave
Milwaukee, WI 53211
Find them online at www.toolshedtoys.com
Twitter: @toolshedtoys
Tool Shed Classes and Events