I'll be opening today's shop profile with a song: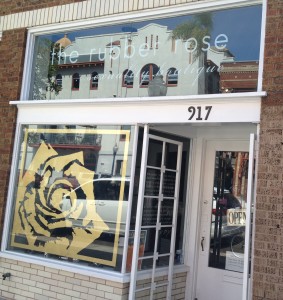 Whenever I get to thinking about San Diego's RIP Rubber Rose- This is their Yelp page. I get that stuck in my head because something that struck me the second I walked through the door was that this was a totally friendly, welcoming space that was painted entirely black. Seriously. It's all black. I spend a lot of time talking about Superhero Sex Shops being "bright" and "well-lit" and The Rubber Rose is actually still both of those things, it's just entirely black.  It's like a body-safe, all inclusive, super-welcoming sex positive vampire boudoir- and I mean that in the best possible way ever. I kind of have a crush on this place and want to live there.
The Rubber Rose opened in 2006 by sex educator Lea Caughlan who is as committed to a a sex positive, education-based approach to adult retail as she is to stocking the shop exclusively with body-safe products. The result? A space that is as radical as it is beautiful, as sexy as it is educational and as fun as it is revolutionary. Seriously,  how could I not love a shop that encourages its patrons to get "down and dirty" with products that are "clean" and "pure"?
Lea Caughlin, owner of The Rubber Rose was kind enough to answer the Seven Superhero Sex Shop Questions for us, check out her answers to learn a bit more about what makes The Rubber Rose so awesome-
What makes The Rubber Rose unique?
The energy of the space is probably number one. Upon entering The Rubber Rose, one is instantly put at ease. There are no glaringly obvious representations of sex or bodies, no extra large dildos reinforcing racial stereotypes. No giant display of pink bachelorette gear intended to continue the long standing joke that is sex. We are unique in the sense that the space itself is comfortable, further made so by our product choices. All of our products are skin safe and non-toxic. All of our lubricants are glycerine and paraben free. There are no long lists of unpronouncable ingredients and the shop is not covered in images of bodies that the industry deems as the sexiest.
The Rubber Rose is simple and classy, with a carefully curated selection of products, presented in a non-judgmental gender and sexuality neutral context run by sex educators.
Any advice to first time shoppers?
All of our products have a floor model out so a shopper can pick up and check out each product. Like all things you bring into your bedroom, you should be attracted to it in some way. So go on instincts, if you are drawn towards something (shape? color? charging mechanics?) go with that! We bring in the best of what is out there, and from there it's all personal preference. That being said theres a couple simple guidelines if it's a first toy; pick something that has a few different speeds or modes. This will give you an array of vibration patterns so you can figure out what kind of buzz you like. Also, try something that could be either internal or external, this way you can figure out where you predominantly like to have your toy. Options are sexy.
I imagine your job to offer the opportunity to teach, open minds and change lives. (Correct me if my imagination is over-active ) Any favorite moments/great stories?
Your imagination is spot on!! That is precisely why we opened the boutique and what we continue to do each and every day! While there are so many specific moments I'd love to share, I will give an overall few mains (and there are so many of these individual stories that I can truly say this is my heart blood of the work we do). A true passion here at The 'Rose is helping countless women (of all demographics – age, sexuality, etc) open up to the idea of owning and being entitled to their own pleasure. From older women who have never experienced orgasm, to assault survivors accessing their own power and reclaiming their body from trauma, to guys coming to us because they too are so incredibly thankful for a positive sex shop experience. Our conversations about not only toys, but societal issues surrounding sex and sexuality, the stigmas attached to it, and our own self judgement taught by what is around us is all relevant. Helping individuals and couples (of all demographics) change or enhance the conversations they are having with each other or their own bodies is truly the root of what we do. The rest, is just the tangible tools.
You're trapped on a desert island (that contains a magical tree which grows batteries and has an electrical outlet in the trunk). What 5 sex toys/products available from Rubber Rose do you want with you?
What is your favorite toy material? Why?
Silicone, duh! Truly though, the softness of Silicone is just lovely, and really the only safe soft material to use. It is non-toxic (no nasty pthalates or off gassing chemicals) and non-porous (no-brainer).
What is the most popular item in Rubber Rose?
Our top sellers rotate (and oddly enough at the same time!! We have days where all we sell is strap on harnesses – Spareparts almost always- and some days where its condoms, cockrings, and mini bullets for guy's girlfriends….group think? global social consciousness connected to sex toy purchasing?!?! who knows…) but if I had to pick the top-selling toy for the consistently longest amount of time it would be the Lelo Gigi.  Runners up would be the Fun Factory Tiger, the JimmyJane Form 2, and of course a Spareparts/Vixen combination.
Any cool upcoming projects?
So many! We've got some fun body adornment designs in the works (think custom lingerie, body jewelry, etc) as well as a new lecture series coming out. Also in the works is partnering with local hotels in the area… pssst, travelers, make sure to request to purchase a carefully selected gift box from The Rubber Rose upon your arrival in your hotel…
Extra credit:
What's on your shop soundtrack?
Anything from Soulection …these producers and djs are chopping up and creating music that was made to groooooove to… https://soundcloud.com/soulection
The Rubber Rose closed in 2014 but lives on in our memories. 
Thank you, Rubber Rose!