Since 1972 NYC's The Pleasure Chest has been bringing sexy stuff to Greenwich Village. It has been featured on Sex and The City (yep, that's where Charlotte bought "The Rabbit") and name-checked by Queen. The Pleasure Chest is an institution.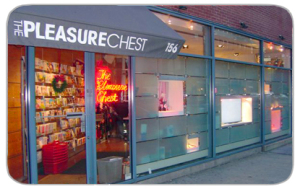 Well, now I've just made it sound stodgy, which is so not the case! My notes for this visit include this gem: "like a freakin' party!" which I totally stand behind. The Pleasure Chest 's selection is impressive (everything from all sorts of kink to bachelorette party kitsch hitting all manner of awesome high-quality toys along the way), the shop is clean and brightly lit, their staff is amazing- knowledgeable and friendly and the class schedule is terrific. For real though, it's just a fun place to shop! I think it's not just the NYC shop either- I had a great time debating kegel weights with the staff in NYC, being interviewed by PC folks from LA at Catalyst and visiting the Chicago shop (that's right, I somehow interacted, to some degree, with all the Pleasure Chest locations in two weeks) New York is where it all started though. For a little history, check out this fun list of Pleasure Chest facts!
Opened in 1971, The Pleasure Chest is something of a sex shop elder statesman. The company prides itself on creating a shop with department style display windows and a well-lit shop in a time when sex shops were generally dark and hidden with "XXX"on the windows. While researching I found this really cool post talking about Pleasure Chest back in the day. What I love about that post is that a shop that in 1972 was leaps and bounds more open and sex positive than everything around it looks, in comparison to the Pleasure Chest of today, kind of scary.
This is what I LOVE about Pleasure Chest! This industry is constantly growing, changing, evolving, redefining itself and striving to improve and when you're in Pleasure Chest, you get the idea that they are too! Seeing that piece of history, you can see how their journey has played out so far and talking to them today, you can see how that journey is still going. Make no mistake, none of this is to say that Pleasure Chest doesn't know its stuff – because nothing could be farther from the truth, with their on-going staff trainings and awesome workshops these folks are some of the best in the business- but I think I could devote an entire piece to the idea that Pleasure Chest is a microcosm for the sex positive community. For real.
Okay, so I've talked a lot about Pleasure Chest ideologically and not so much about the shop, which is great (remember, "like a party!") so I'm going to hand it of to awesome Pleasure Chest NYC manager Brandon who was kind enough to answer the Seven Superhero Sex Shop Questions. Check it out!
What makes The Pleasure Chest NY unique?
The Pleasure Chest  is unique from other Superhero Sex Shops for a variety of reason!  Our in-store Sex Specialists go through thorough on-going trainings and interacting with our staff is both friendly and educational.  Beyond that, we also facilitate a free workshop program in all of our locations, ranging on topics from basic oral sex techniques to BDSM to socio-political sexuality and relationship discussions.  We strive to offer easy-access sex and relationship education to our community in a manner that is inviting, informative, and fun!
Entering a sex shop for the first time can be daunting. Any advice to first time shoppers?
We all know about those stereotypical ideas about what to expect when going in to an adult toy store—creepy staff, dusty product, eerie environment.  Nobody wants that!  And we don't want that for our customers.  Of course it's natural for some people to feel a little uneasy discussing something so personal private with a complete stranger, but my advice to first time shoppers coming in to The Pleasure Chest would be to ask any and all questions that you may have!  Our staff is very friendly and knowledgeable, and you will find that the more open you are to sharing and asking, the sooner you'll realize that we aren't anything like those other sketchy stores out there.  We are a resource, use us!
Any favorite moments/great stories?
We have powerful interactions with customers on a daily basis.  One of my favorite stories though involves a Blowjobs & Beyond workshop that I taught at the store.  It's our most popular monthly workshop and is always very busy and fun, but I always make sure that I make time for everyone's questions after the workshop.   A few weeks after I taught this workshop in particular I was at a concert, and while I was in the lobby waiting for it to start a person came up to me with her husband.  He asked her "This is him?" and she said "Yes."  He looked at me a moment, paused, and then extended his hand for a handshake with a smile, saying "My wife attended your blowjob workshop.  Thank you so much!"
You're trapped on a desert island (that contains a magical tree which grows batteries and has an electrical outlet in the trunk). What 5 sex toys/products available from The Pleasure Chest NY do you want with you?
Oh wow, only 5?!  I'll try (Follow the links to check out the products at one of my affiliate shops.):
1. NJOY's Pure Wand – it's the perfect toy for p-spot/g-spot stimulation.  It'll also come in handy for cracking open coconuts.
2. JimmyJane Form-2 – a small powerful vibe that will be easy for me to carry around the beach or even into the ocean.
3. Tenga Eggs – The different textures on the inside of these sleeves will help change things up until I'm rescued.
4. We-Vibe 3 – an awesome couples vibe, just in case I meet any other sexy castaways…
5. It isn't necessarily a toy, but I am going to hope that this desert island is surrounded by endless waves of Sliquid Sea lubricant.
What is your favorite toy material? Why?
I'm personally a big fan of medical-grade stainless steel.  It's firm and when lube is applied to it, the texture is smooth and easy to use.  That combined with the weight of any toy made of stainless steel makes for a powerful and effective product no matter what type of toy it is!
What is the most popular item at The Pleasure Chest NY?
The Vibratex Rabbit Pearl E is one of our best sellers.  The Pleasure Chest New York was featured in the episode of Sex and the City where Charlotte buys the Rabbit after her friends swear by it, and ever since then we have had waves and waves of people flocking to our stores on a daily basis to see what all the fuss is about.
Any cool upcoming projects?
As I mentioned before we do workshops on a weekly basis, and people can see which workshops are coming up by visiting ThePleasureChest.com.  Beyond that, we do a lot of community outreach and support a lot of events around the city where you can win Pleasure Chest swag — events ranging from dance parties to drag bars to burlesque performances and more.  People can follow us on Facebook or Twitter to see where we're going to be next.  We're all over New York, come play with us! We are launching a new campaign and website in June –  SEX IS BACK , a sex-positive storytelling campaign gathering video testimonials from people of all genders, orientations and walks of life about their sexual journeys.
Extra credit:
What's on The Pleasure Chest store soundtrack?
We're New Yorkers, in our location we listen to Rock n Roll!
The Pleasure Chest is located at

NYC (Upper East Side)
1150 2nd Ave
New York, NY 10065
NYC (West Village)
156 Seventh Avenue South
New York, NY 10014
Chicago (Lincoln)
3436 North Lincoln Avenue
Chicago, IL 60657
Chicago (Broadway)
3023 N Broadway
Chicago, IL 60657
Los Angeles
7733 Santa Monica Blvd.
West Hollywood, CA 90046
Find them online at thepleasurechest.com
Twitter: @PleasureChestNY, @PleasureChestCH, PleasureChestLA
Pleasure Chest Classes and Events