SuperVibe Ts
Women's* S, M, L, XL & XXL 
For sexual superheroes who share my mission to save the world from mediocre sex!  As SuperVibe says, "With great power comes great…"
From Lucky Bloke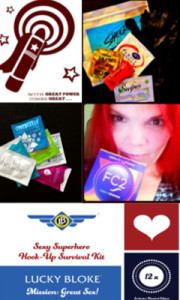 While you may not always know what you'll encounter in the bedroom, a sexy superhero is prepared for anything.So we've partnered with Lucky Bloke to make certain that your next one (two or three) night stand begins strong and ends with ultimate satisfaction.
The Sexy Superhero Survival Kit contains most everything you'll need to rock some hot safer sex — no matter what you may come up against.From fantastic condom options to lube preferences to morning breath you'll be ready to face it!
The Sexy Superhero Survival Kit is priced at $14.99 and includes:
6 TOP CONDOMS (assortment based on the size you select) including styles like:
Okamoto 004, Skyn, Skyn Large, GLYDE, FC2 (Female) Internal Condom
4 LUBE PACKETS: Sliquid Organic Gel, Please Gel, überlube, Please Cream
DISPOSABLE TOOTHBRUSH: Colgate Wisp Mini-Brush
2 INTIMATE WIPES: Swipes, Unscented
How could it possibly get better?!
A portion of this purchase supports: Fistula Foundation
Bedhead on your Kindle
The Redhead Bedhead
 – Get my posts delivered auto-delivered wirelessly to your Kindle and updated throughout the day so you can stay current.
Try it out – This Kindle Blog subscription starts with a 14-day free trial. You can cancel at any time during the free trial period. If you enjoy your subscription, do nothing and it will automatically continue at the regular price.
Monthly price $0.99, First 14 days FREE