I sincerely believe that some higher power (or something, this usually isn't my bag) sent a snowstorm to Minneapolis on April 11th for the sole purpose of reminding me that I do not want to live in Minneapolis (I just left Boston, no snow for a while please!) Had that storm not hit there is a very real chance that after my visit to Smitten Kitten I would have pitched a tent outside their door and commenced begging Jennifer Pritchett to allow me to work at this wonderful, wonderful place. For real. A tent.
Smitten Kitten opened its doors in 2003 and immediately became ground zero for the body-safe toy movement. Here's a terrific video of Jennifer telling the story of how opening the shop led her to start crusading against toxic sex toys.
Over the last ten years Smitten Kitten has come to be celebrated for their painstakingly curated stock of body-safe toys, dedication to awesome education and leadership in the sex toy safety movement. Seriously, there is some tremendous work going on here and it's all happening in a beautiful, welcoming and, frankly, super-fun space.
In the above video Jennifer speaks about how when Smitten Kitten opened it was hard to find enough body-safe products to stock the 500 square foot store. Cut to 10 years later when the shop is in a larger space and is bursting with terrific stuff that is all body safe. Check out their site (their online store is fabulous too- I got to tour the part of the shop devoted to filling those orders. It was impressive and I nearly expired of fangirl-dom) to see their huge assortment of toys, lubes and supplies-  they were the only place I saw one of these  as well as a class schedule and streaming educational porn. My favorite stuff isn't on the site though. Smitten Kitten carries a bunch of unique,  beautiful, locally-sourced products. I left with this gorgeous flogger made from reclaimed cashmere by a company called Swoon Kink.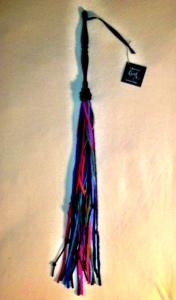 Come on! That thing is amazing! The artist who made it also makes cashmere blindfolds, hand cuffs and masturbation sleeves (yes, really) and this is just one example of the type of cool stuff you'll find here. Smitten Kitten is awesome in that I would definitely send a first time shopper here but it's amazing enough to wow even the most seasoned, jaded sex shop veteran. It was my last stop on the mid-west leg of the tour and even after seeing 15 other awesome sex shops my mind was blown. This place is incredible.
 Hannah, one of Smitten Kitten's Sales Associate/Sex Educators was kind enough to answer the Seven Superhero Sex Shop Questions – Hannah is also the creative force behind the window display! Thanks Hannah!- Check it out:
What makes Smitten Kitten unique?
Like so many of the shops on your tour, we're an education-based store with a progressive mission. That's what sets us apart from other sex stores in Minnesota. What surprises me is that even our local customers sometimes aren't aware of the store's history. When Smitten Kitten opened in 2003, there wasn't much public awareness about the dangers of toxic sex toys. The Kitten did a lot of trailblazing in the industry by only selling completely body-friendly, non-toxic toys back before there were so many amazing options. These days we still talk with customers a lot about the difference between our body friendly inventory and some of the toxic jelly options still out there in the world… but we've also seen a steady increase in public awareness of unsafe toys over the years. I'd like to think that our store's presence in the industry has had a little bit to do with that.
Entering a sex shop for the first time can be daunting. Any advice to first time shoppers?
We devote a lot of energy to making our store an easy place to shop. I'd advise first time shoppers to do some research online, talk to friends, and find a sex positive shop that seems like it actually wants to improve people's sex lives (as opposed to just make money). If there isn't one in your area, try online. Lots of the stores on this tour do amazing things with online and phone customer service. Smitten Kitten does live online chat, and we answer tons of questions via email. I know The Tool Shed in Milwaukee offers great phone customer service, too – they've helped me on the phone before!
Any favorite moments/great stories?
This job is amazing. It's also a huge responsibility! Sometimes our customers are simply looking for a new toy to "spice things up." Other times, they've come to our store because a doctor or therapist recommended Smitten Kitten as a resource. People place an incredible amount of trust in us sometimes, and honestly it can be very challenging. Sexuality is so central to many people's sense of self. Not to lapse too far into hyperbole here – but it seriously is an honor to be able to work with people in this capacity every day and help them make (sometimes really profound!) changes in their intimate lives.
You're trapped on a desert island (that contains a magical tree which grows batteries and has an electrical outlet in the trunk). What 5 sex toys/products available from Smitten Kitten do you want with you? 
(follow the links to find the items in my affiliate's shops)
Oh man, I'm glad you asked. I've actually given this a lot of thought over the years. I'd take an Under The Bed Restraint System and a Liberator Fascinator Throe to string up between some trees as a makeshift shelter for my first night on the island. The NJoy Eleven is 2.75 lbs of surgical stainless steel, but it feels a lot heavier! I'd pack that as insurance against pirates or Others (I'm a fan of both Swiss Family Robinson and Lost). That leaves me two more items… I guess I'd have to go with some Kink Lab curb tip safety scissors for cutting palm fronds, which I would weave into a hat to protect me from the sun. And then maybe a copy of Tristan Taormino's Chemistry Volume 3. It's a great movie, and it comes with two DVDs which I would use to reflect the sun and signal passing ships to come rescue me.
Note: These are the most resourceful answers I've gotten to this question. Ever. I'd recommend everything on this list for sexual use as well. These are jut all-around awesome picks!
What is your favorite toy material? Why?
Dark horse answer – ABS plastic! I love that it can have a smooth or brushed finish, and it's rock hard so it makes for great g-spot and prostate stimulating toys. Hooray for the dark horse. ABS doesn't get the credit it deserves!
What is the most popular item at Smitten Kitten?
That depends! Our customers have favorites in every category, and we sell a really wide variety of products. We can always tell when someone somewhere in the world has written a blog or taught a workshop about a particular product though… seriously, we'll get a dozen orders from another continent for one particular type of Vixskin dildo. That can't be coincidence, right? It's not just Oprah who creates these consumer trends. It totally happens on a smaller scale in the sex toy industry.
You do some really fun stuff here! Any cool upcoming projects?
Well this week, we've been packaging up a bunch of temporary tattoos that we designed ourselves. They're going to be free giveaways at Dark Odyssey Fusion. One of them says "Polyglamorous" and another says "Thanks for the Spanks!" We love art projects.
In August (2013) it's the store's 10th anniversary, so we've got some celebration plans in the works including a video submission project and some serious partying.  Cut to me mulling over a trip to Minneapolis…
Extra credit:
What's on the Smitten Kitten store soundtrack?
Oh boy! Let's just say our staff has diverse musical tastes. Some nights it's K-pop and Robyn, other nights we rock slightly harder. I'm partial to some unironic Kenny Loggins myself, but for some reason that doesn't last long with my coworkers. If there's country music playing when you walk in, you know for sure that owner/co-founder Jennifer Pritchett is in the house. :)
Smitten Kitten is located at
3010 Lyndale Avenue
South Minneapolis, MN 55408 
Find them online at www.smittenkittenonline.com
Twitter: @SmittenKittenMN
Smitten Kitten Classes and Events