---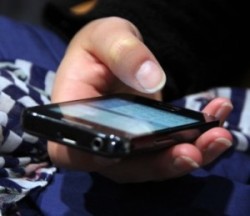 Sexting. I think at this point a lot of us do it and it's one of those things that I've realized people assume I must, because of my work, be a rock star at so today I'm going to get real with you about sexting and give you some advice, some reassurance and maybe even make a confession or two. So, here goes, let's talk about sexts, baby:
Fine, there ARE some parts I can be frighteningly good at
I don't know if it's because I'm a writer or if it's my background in theatre or if I just have a really dirty mind but, dude, I can write a damn good sexy message. I think the key is having an affinity for dirty talk and a knack for improv.
Takeaway: For a good sexy text combine functional dirty talk with improv games to keep the story going – Express a desire (I want to ___ your ___) Ask for consent (Does that sound good?) Keep the story going (What do you want?)

There are some parts of it I'm terrible at!
I'll admit it, there are some parts of sexting I'm just really bad at, like "waiting an hour while I take 87 pictures to get the perfect 'casually sprawled here in this sexy manner' one" bad at or, alternately, "having me send them the same picture again because I've forgotten who I've used that one on" bad at. Yeah, I use them over. On different people. Hey, if it's a really good picture, why would I waste it? Reduce, reuse. recycle! Anyway, there's stuff I'm bad at.
Takeaway: If you ever feel not great at sexting- know you aren't alone. I talk about sex professionally and sometimes sexting trips me up. Also, keep your face out of any naked pics, trust me on this.
Unpopular opinion: I actually like dick pics (with a BIG caveat)
I recently watched all of "Inside Amy Schumer" and loved it but was struck by how often she found it necessary to announce that no one likes dick pics, that they are, at the very best, funny and they are certainly never arousing. This is where I have to remind Ms. Schumer that nothing is true for everyone. I like a dick pic – IF (and this part is important) it is sent to me with my permission and usually, it needs to be a dick I know and have already enjoyed. Unfamiliar dick doesn't do it but dick I'm fond of – game on.
Takeaway: If you hear the world saying "Dick pics are gross!!" and you're thinking "I like looking at dicks, am I gross?", know that you aren't. I totally have your back. Just don't send me your dick.

Sometimes I prefer sexting to boning
Don't get me wrong, I love sex but sometimes I like sexiness that can be accomplished while I'm alone, unshowered, in my pajamas. No muss, no fuss and on to the next episode of Orange is the New Black.
Takeaway: Sexting can be incredibly satisfying and I can be incredibly lazy #sorrynotsorry
There you have it folks, the not-so-sexy life of a sexting sex writer! I hope I didn't shatter too many illusions and that maybe I helped you feel a bit better in your sexting skin.