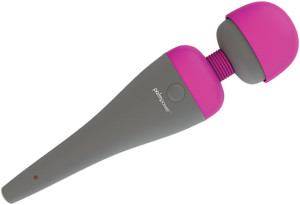 Once you have reviewed a bunch of toys you find that you start to repeat yourself. There are several "game changers" more than one thing that's "completely different" and "new favorite" just becomes a cliché but here's something I have legitimately never said about a toy before – the BMS Factory PalmPower Wand gave me a new way to masturbate. For real.
Let me back up a bit. Last year people started raving to me about this toy, talking about how it was their new favorite- I took one look at the size and shook my head… it just didn't look big enough for my needs. Then I saw one in person. I was visiting a shop and I picked it up, turned it on and immediately accidentally turned it off. I did it again. Finally an employee explained that I should hold the button down and my face (which is never any good at hiding what's going on in my head) must have been amusing because the man behind the counter laughed and said "Right?!" – He knew I had just discovered that the PalmPower is ridiculously strong. From there it made it onto my 2015 Sex Toy To-Do List and then the lovely folks at Trystology offered to send me the PalmPower Wand so i could see what the fuss was about for myself and I jumped at the chance.
The PalmPower Wand is a plug-in wand and I know in the day and age rechargeables are all the rage and plug-in toys can feel a bit passé but I'm still a fan – there's something about knowing I'm never going to run out of power that makes me feel a bit invincible. This toy is, especially to a fan of wand-style vibrators – shockingly small at just 7.5 inches long and 1.6 inches wide. The handle has a lovely curve that screams "hold me JoEllen!" (yours will probably learn your name). The cord is super-long and comes with multiple adaptors so your PalmPower is good for international use (Bonjour!). The one weird (to me, I haven't seen anyone else find this weird) thing about the cord is that it's detachable, so it looks like a rechargeable toy- but it isn't. The cap on the head of the wand is removable and can replaced with an array of different massaging heads (sold separately) – one set- PalmSensual- designed to allow the Palm Power to be used as a clitoral and rabbit vibe and the other – PalmBody- designed for body massage. To make sure the caps don't just pop off willy nilly there are notches in them that line up with raised part of the head in the toy – if you line everything up right this works great. Sometimes I failed at that part.
On to my opinions!
Okay, I'll be direct- I love this thing. In some ways it feels like it was made for me. How? Allow me to review.
Things that make me suspect the PalmPower Wand was made for me:
The button– The PalmPower has one button and it works by pressing it and holding it down until the toy has reached your desired level. As someone whose MO with wands (or, you know, any vibrator ever) is to find the highest steady vibration level and park it there I find this ideal. No muss, no fuss, turn it on and, if you want it stronger, do the button equivalent of flooring it!
No patterns– I'm just going to ask: Do people use vibrator patterns? I'm not trying to be a jerk, I really don't know. I've never used them and I can't picture someone being like "that one where it goes "- – – ———— -" is just so hot!" There's none of that here – just variable-speed constant vibration. Perfect.
Intensity – The PalmPower is shockingly intense. I am a power girl and this toy delivers on that. Funnily, the intensity kind of reminded me of one of my most hated toys ever in that I felt like this toy was going to get the orgasm out of you No. Matter. What. But it works here, it's like they have harnessed the power for good, rather than evil.
Coverage– This is an area I was worried about, would it be too small to hit all the spots I like? To cover the "large swathes" I like my toys to cover? Well, I don't know if it's that it's just big enough to cover what I need or that the vibration is strong enough to make up for the size but it all works. The PalmPower Wand has become part of an integral part of my starting line up.
So, about that new way to masturbate:
I made some fun discoveries with this toy. First, because it's not huge but the vibrations are crazy-strong I leaned that running it along the length of the vulva is pretty much the coolest thing ever but that's not the big discovery, the big one carried over to the other toy I recently reviewed from the same company – the Swan Wand. I discovered that the nature of the vibrations make it so that I can press the PalmWand against my pubic bone and feel the vibration radiate through the clitoral complex and have a really awesome orgasm that way. Here's a visual aid to help understand the anatomy there:
Is there anything I don't like about the PalmPower Wand? I do have some minor quibbles.
My quibbles with this toy:
The removable cap: While I like it, I wish it came down further, I think it would make everything more secure and the whole "am I lining the notches up right?" thing would be less of an issue
No turning back: I like the one button thing except because there is only one button you can only turn the power up. I have learned that I can orgasm 3 times in any given session but I have to dial back the toy intensity after the first orgasm. Here I have to shut it off and start over. #toyreviewerproblems
Detachable plug: I don't get it. I think I'm missing something there. Someone is probably going to explain it to me and then I'll feel silly.
On to the attachments: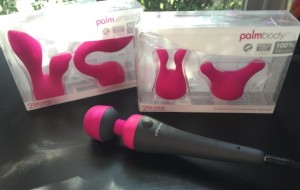 I get the PalmSensual attachments in theory -one for direct g-spot stimulation, one to make your PalmPower and rabbit-style, dual-stimulation toy-  in practice I'm not a g-spot girl. I like to grab a wand, crank it up, apply it externally and call it a day. So, these aren't really my jam. As for the PalmBody attachments, because of the small size and light weight of the toy I find you do have to take the firmer ends of the attachments and press them into the parts you are "massaging" (as opposed to taking that wider piece and trying to have it massage from two sides) but it does feel good- it just covers small areas at a time. BMS Factory is aware of this – they specify that the little one (which totally reminds me of Louise's hat on Bob's Burgers– do you see it?) is specifically for massaging the hand – just the hand. So, If you are a g-spot person, want to play with massaging stuff or have, you know, really tense hands (I'm not being a wise-ass here- anyone who has done any kind of detail work knows what that can do to hands- it's a thing) these could be fun and for $20-$30, not bad. The one caveat I have is the g-spot one is a bit top heavy and notches be damned doesn't seem to want to stay firmly on the wand, at least it didn't for me.
So, that's my story. I LOVE the wand. The attachments- that's your judgement call.
Get the PalmPower Wand from some of my favorite retailers:
SheVibe, Early to Bed, Peepshow Toys
Want the attachments? Get them here:
Thank you to Trystology for sending me the PalmPower Wand and attachments to try!
This product was provided to me free of change in exchange for my honest review. My review policy is simple: I will never lie about liking a product if I don't (in fact I probably won't even write about it) but when I do like something it's hard to get me to shut up about it.