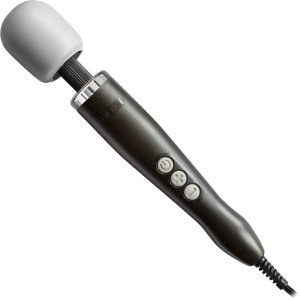 Okay folks, it's story time! On September 7th 2012 I walked out of the courthouse after my divorce hearing, boarded a Cleveland Circle-bound C line train, got off at Coolidge Corner, went directly to Good Vibrations and purchased my Hitachi Magic Wand. I fell in love with that thing. I know lots of people say that, but for me the Magic Wand was pivotal in my sexual awakening. It helped me figure out that I wasn't broken, I had just been using the wrong kinds of toys. It helped me get to know my body and my orgasms. I became obsessed with it and given how loud that thing is and widely sound traveled in the drafty old Victorian house-converted-into-apartments I was living in, I'm pretty sure my upstairs neighbor thought I opened a woodworking shop in my bedroom. I may bounce around to other toys from time to time but when I really wanted to get the job done I would turn to my love, the Magic Wand
Jump forward two years to September 7th 2014 when I arrived home from helping the cute boy move to another city (more on that later) to find a box from my friends at SheVibe. In this box was another (giant) box holding the Doxy Wand Massager. Folks, I almost hate to say it because the Magic Wand is so representative of a particular moment in my life but, I think my heart has been stolen away.
So, what's the deal with this toy? Well, it's basically the UK's answer to the Hitachi Magic Wand no longer being available over there. What's awesome though is that it feels like this was made by someone who liked the Magic Wand but had some quibbles and decided to address them. This is the Magic Wands, younger, sexier sibling who can also do more stuff.
How does it work? Okay, so I know for some people this will automatically cost it "cool" points but the Doxy is a plug-in massager that is operated simply with 3 large and very clear buttons. One turns it on and puts it into the pulsing mode and the other two raise and lower the intensity. When you turn the Doxy Wand on it is already at about 1/2 power so if you need less vibration you need to turn it down. I like this because starting in the middle just makes more sense to me than starting from zero and making us build all the way up, but I'm a power girl myself.
 Fun fact: I don't use vibration patterns on any vibrators ever. I go for the strongest steady vibration and run with it. Also I tend to not read instructions when I get new toys- I just start frantically masturbating. So I didn't even realize that the pulsing mode existed until I went to the website to double-check some stuff and saw it there so I had to go get the wand out and play with that mode, which is hella easy: Press the "on" button and then hold it down.
How does it feel?
I'm not going to lie, it's big but if you've ever dealt with full-sized wand toys, it's nothing new. The body is a hard plastic with a finish that I love because (this will sound weird but remember I was living in Boston when I bought my Hitachi) it doesn't get cold. The body also has a bit of a curve to it, it feels sexy (reminds me of the curve of a waist) and is comfortable to hold.  The buttons are big, easy to find and soft. The head of the Doxy is made of PVC (which they keep saying is "medical grade", I'm not entirely sure I believe that's a thing…) and while that's not my favorite thing, I have to admit, it feels lovely- soft and supple with a nice amount of give to it.

No, seriously, how does it feel? 
So, orgasms are a hard-fought victory for me. They usually take a while to get to and there is no guarantee that they will come along at all. The first time I used the Doxy Wand I had 3 in 9 minutes. I find the vibration to be strong and rumbly, though it gets buzzier as it gets to the higher speeds. What's great about the variable speeds is that I can take the intensity way up, have an orgasm, ease it down a bit while things are feeling kind of sensitive and then rev it back up for the next orgasm- cue 3 orgasms in 9 minutes. Also, as is the case with large wands, it covers all the area I need it to. I always joke that I need toys to cover "large swathes" of my genitals because my orgasms tend to come about from a mixture of clitoral, perineal and urethral stimulation and this more than gets that job done.
The Doxy people make all sorts of power claims ("most powerful!", "30% more powerful than!") True? Maybe… I don't know. All I know is my life usually involves sweating, grunting and cursing trying to get to an orgasm and this gave me 3 in 9 minutes.*
In the 9 minutes since my last tweet I have become such a fan of my @DoxyMassager that I scared my poor dog out of the room. #wow @shevibe

— JoEllen Notte (@JoEllenNotte) September 10, 2014
Working for me:
It's super-powerful
Variable speeds
It covers my preferred "large swathes" of body
The curvy shape feels great in my hand- especially as I tend to grip hard, it's nice to have something a bit more ergonomic.
When turned on it's already at about the middle of its power range so I don't have to start from the bottom and get it all the way up.
The attachments for the Magic Wand fit on the Doxy so I can still use my Gee Whiz.
Not so much:
While I think the head feels lovely, I can't get it to stop bothering me that it's PVC, I really wanted it to be silicone. Anyway, the Pop Top that I use on my Magic Wand does fit on it so there's that.
It's hella loud, especially for a power queen like me (it gets louder as you crank up the power).
The button placement. They are placed slightly lower than mid-way down the body and for me this means I, in my gripping frenzy, bump them and turn it off which is not all the orgasm-making fun.
The Doxy Wand Massager retails for $129.99  and you can get yours from SheVibe!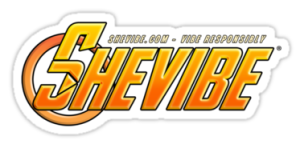 Thank you to SheVibe for sending me the Doxy Wand.
This product was provided to me free of change in exchange for my honest review. My review policy is simple: I will never lie about liking a product if I don't (in fact I probably won't even write about it) but when I do like something it's hard to get me to shut up about it.

*I should mention that subsequent uses were similarly successful apart from one evening with a partner hen I feel like a choked due to the hype I had built up around me and my Doxy :-)