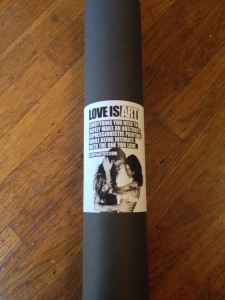 I remember a day in pre-school when we were all enthusiastically finger painting — I was really going at it, I loved me some finger painting. When we were done the boy next to me showed me his painting. It was a picture of a house and a tree. The house was blue, the tree was green, the roof was black. He then looked at my painting which consisted of ALL the colors splattered and smooshed all over the paper. He took it in and said "Mine is a house, yours is the house after it fell down" (which was fairly diplomatic for a 5 year-old) I've always loved big, beautiful messes
I remembered this story the first time I spied Love Is Art, a conveniently packaged kit including everything you need make an abstract painting with your body.  Seriously, I fell in love with this idea, it's basically really sexy finger painting! So, thanks to the folks at Burlesque Toy Shop and a really sweet, fun adventurous partner (often referred to here as "the cute boy") I got to spend my recent birthday creating a big beautiful mess!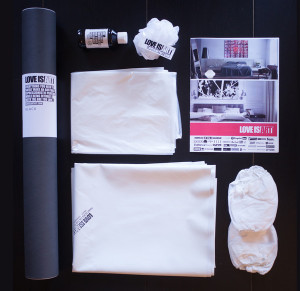 So, what's the deal? The Love Is Art kit comes equipped with almost everything you need to create a large abstract painting by, well, having sex on a canvas. It is a thoughtfully produced product containing not only not-toxic* paint and a 41″ x 54″ specially treated canvas but also a drop cloth, two pairs of booties (to facilitate getting from canvas to shower without painting your floors), a scrubby thing (to scrub off the paint) and detailed instructions. You can actually see the thought process that went into creating this kit. "But wait! They have to get to the shower!"
How does it work? The folks at Love Is Art have made this super easy. After laying out the drop cloth and the canvas (which is complete with a marking indicating which side is up – thank you! I actually almost flubbed that!) I followed the instructions for sprinkling the entire bottle of paint all over the canvas. We followed a suggestion included with the kit and started off by playing a bit in the bedroom before coming out to the canvas. It was messy and fun! There were moments of being acutely aware of being on a hardwood floor or of planting a hand in a blob of paint but, for us at least, the novelty was almost as good as the sex itself. Seriously, this was fun!
How did it work out?  Almost everyone I've mentioned this to has speculated about ending up with a sexually graphic painting but the thing is, the instructions seem designed to help you be sure to create something abstract rather than x-rated. The process was easy and fun, the clean up was speedy (the scrubby is necessary though and I did find paint later on in…places) and I love the painting! Because it is a canvas you do need to get some stretcher bars and stretch it before it can be hung- I enjoyed that because I like that kind of thing but if you don't, I'm willing to be you can bring it somewhere to be stretched.
Things I'm down with:
This is just cool. It's a fun, messy way to celebrate sex or love or both! My partner and I were discussing the wedding gift possibilities here.
Again, I love how much thought you can see in the design of this kit. They really seem to have thought of everything. The instructional booklet even includes info on stretching the canvas— the only thing that's not actually included in the kit.
I like that the painting isn't graphic, I know it's my sex painting but everyone doesn't have to know. Alternately, if you want a graphic painting the potential is there too.
The price- $60 for a large abstract painting that's all yours – is pretty great.
Things that make me go grr:
The stretcher bar thing is the only real caveat here. Love Is Art does everything they can to make this part easier (there's a tutorial on their site, you can get the stretcher bars from them) but it is an extra step and expense to think about. ($32 on the Love Is Art site). That's something folks might want to know up front (though I swear, it's totally worthwhile!).
Get you Love Is Art kit here: SheVibe, She Bop
Thank you to Burlesque Toy Shop for giving me the Love Is Art kit to test!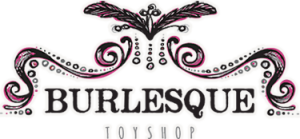 This product was provided to me free of change in exchange for my honest review. My review policy is simple: I will never lie about liking a product if I don't but when I do like something it's hard to get me to shut up about it. 
* Here are some details on the non-toxic paint