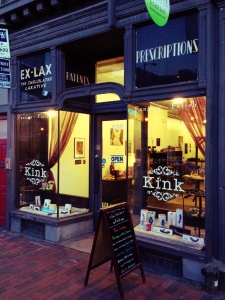 A couple months back I did a little teaching tour back east. The first stop was a shop I had never set foot in before and whose name actually had me a bit concerned as to whether I was too "vanilla" for this space.* I had no cause for concern though as Philadelphia's Kink Shoppe is a shop anyone could love.
My favorite thing about Kink Shoppe is that it manages to be inclusive without hiding its kinkiness. Custom sex/dungeon furniture is one of the shop's specialties and some of it is on display throughout the shop along with lots of rope, paddles, floggers and, other fun kinky stuff.
But right alongside all of that is an impressive selection of quality, body safe toys, a wide assortment of lubricants and condoms and lots of fun, not-so-kinky stuff – that's where I discovered that you can get the Love is Art kit in red!** There's not a separation of "kinky stuff" and "sex stuff". Kink Shoppe has created a beautiful, comfortable space where it is possible for, in the space of 10 minutes, one person to book a class on flirting, another to outfit their dungeon and a third to pick out their first vibrator and ALL of them to be happy. I'm thinking that's why they won this award…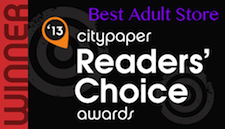 Anyway, I've talked more than enough. Fred Hoverman, Kink Shoppe's fabulous owner, was kind enough to answer the Seven Superhero Sex Shop Questions so, without further adieu, here are his answers! Enjoy!
What makes Kink Shoppe unique?
Ambiance, custom products made in-house, and live demos/workshops.
If you ask the customers, the ambiance in the store itself is pretty unique.  I think the warmly lit open gallery-like layout sometimes throws people for a loop when they first come in.  Customers from all over regularly comment on how the shop is "beautiful," "clean," even "chic" and that they've never been to a sex store quite like the Kink Shoppe.  That type of atmosphere just adds to a customer's comfort level, and that's important.
In addition to that, I think our custom products really set us apart, specifically Kink Shoppe's custom bondage rope and sex/dungeon furniture.  I hand-condition and dye raw hemp and jute bondage ropes, a process that can take up to a week to complete, and am happy to do custom orders when a customer wants specific colors or lengths!  We also design and build our own sex furniture, all custom orders to the customer specs, and have some on display at the shop.  They definitely get people's attention!  You can see the St Andrew's cross and the huge suspension rig (the centerpiece of the store) from the street.  I call that rig The Gateway, because it leads into the kink section of the shop!
We also use that rig as part of our monthly live shibari suspension demos.  These demos promote the art of Japanese rope bondage and enable customers participate and experience something new, which is unique in itself.
 Any advice to first time shoppers?
Sex is fun and shopping for toys should be fun too!  If you're in a store, don't be shy; ask questions!  A good store will have knowledgeable staff on-hand that are trained specifically to answer those questions and recommend products!  If you're shopping online, do research and educate yourself on toy materials and types.  Figure out what type of stimulation works best for you and look for toys that specialize in that stimulation.  Read reviews, but keep in mind many toy reviews are subjective; what works for one person may not work for you. Pay the most attention to the comments about design and quality.  If you can, just go to a store.  You'll get personal service and be able to pick up and feel most products in your own hands!
 Any favorite moments/great stories?
So many things! In general, anytime I sell someone their first-ever toy, or make an impact so much that regular customers will take the time to stop in just to say hi or thank me for doing what I'm doing and what I'm bringing to the community, or even having customers come back to say how their partner loved the toy they gave them as a gift.  Basically, just making customers happy and "satisfied" are my favorite moments.  Oh wait, and that time we had a proud grandmother bound and suspended during our shibari demos! That was a great moment!  :)
You're trapped on a desert island (that contains a magical tree which grows batteries and has an electrical outlet in the trunk). What 5 sex toys/products available at Kink Shoppe do you want with you? 
(Follow the links to check out the products at one of my affiliate shops.)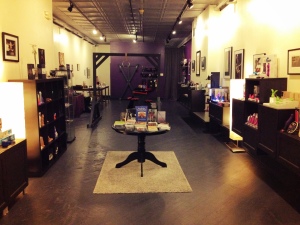 Assuming I'm stranded with a partner:
-Full sets of Kink Shoppe Hemp & Tossa rope (could also come in handy for survival!)
-An Hitachi Magic Wand w/ Vixen Gee Whizzard attachment (can that count as one?) Of course they can!!!
-BS Capsula
-LOL! (Lots of Lube, specifically Nature Lovin' Honey Bear for water-based (though Cosmic Bear Glow in the Dark lube might be useful on a desert island), überlube for silicone)
What is your favorite toy material? Why?
Silicone, no doubt!  Soft, non-porous, easy to clean, body-friendly, poly-friendly (toy dependent…), and makes for one hell of a sting-y paddle!
What is the most popular item at Kink Shoppe?
On the toy side, it's a toss up between the Minna Ola & We-Vibe 4.  From the kink side, it's Kink Shoppe hand-conditioned hemp bondage rope.
Any cool upcoming projects?
New products (we rotate new ones in every month or so), new workshops (lots of instructional BDSM classes), and getting to work on a new website! Maybe even some new custom-built furniture!
Extra credit: 
What's on the Kink Shoppe soundtrack?
It alternates between Pixies and Gin Blossoms Pandora stations on a regular day and Portishead or Pretty Lights Pandora during our live shibari demos (third Friday of every month)!
Kink Shoppe is located at
126 Market Street
Philadelphia, PA 19106
Find them online at www.kinkshoppe.com
Twitter: @KinkShoppe
Kink Shoppe Classes and Events
*Fun fact: I have a tendency to identify myself as vanilla in the same conversations where I explain why I prefer the Violet Wand to the Neon Wand and fire play to both
 **I think I just did it again.. for some folks screwing in paint on a canvas so you can hang it on a wall may be considered kinky, right? Whatever, I already made one and I still kind of want to make a red one. You know, for my bedroom.