Awesome stuff for hot sex that might happen to occur on February 14th
So, as you may have noticed, I have been on the road for the last 12 days. I miss my home, I miss my bed, I miss other stuff. I suspect this may result in me having a lot of sex on February 14th.  Now, I'm not into Valentine's day but I imagine it like the sex-bacon-pancakes-beer valentine's day I described in last year's post.
All that said, I am thinking about what I want to have with me for a sex marathon* that happens to be on February 14th. Here's the list. Be prepared, some of it is stuff I talk about ALL THE TIME because, obviously I want that stuff with me and some of it is stuff I've been thinking would be fun to add in.
So check it out and see if there's anything you might like for your own sex-a-thons- no matter what day of the year they land on!
FC2 Internal Condoms


Because condoms are a must and these have become my condoms of choice.
And now for  the lube arsenal! Because you can never have too much. These are all my favorites.

Please Cream Lubricant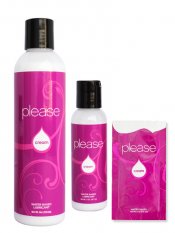 I love a hybrid lube (water based lube that contains some silicone)- it's the best of both worlds! If you have ever read me at all you probably already know I am mildly obsessed with Please Cream– it's incredible!

Uberlube Silicone Lubricant

I've come to enjoy keeping silicone lube around too. It never dries out and I like to put some inside my FC2 condom before I insert it because, you know, hospitality. Uberlube is fantastic- it feels amazing and, I have to say it, is packaged beautifully.

Sliquid Organics Water Based Gel Lubricant
I went on a mission to find a good, thick water-based lube because I don't love the most popular one that most folks recommend (it's great, just not for me) but I LOVE Sliquid so I'm trying their organic offering instead. Also, who am I to argue with Tristan Taormino?
And then toys and stuff!

Aneros Helix Syn
I took my sexy time partner to a Charlie Glickman class recently and  I have been dying to get up a toy review for penis/prostate having folks so everybody wins!
This is a chance that I'll be arriving home to find one of these (provided my mail is still there – who forgot to put a hold on her mail? ME!) After I raved about the coolness of the We-Vibe 4 on Sex Out Loud Radio and mentioned that I hadn't tested it, some internet magic happened and apparently I have one coming. Can. Not. Wait.

Mystic Wand
This is my closer, my go-to. For me this is the sexual equivalent of bringing a toothbrush along with me. If there's action to be had my Mystic Wand will be part of it. #MysticWandForever
I have one of these that I haven't used yet- now is the time. It is arguably the nicest stretchy cock ring I've ever felt.

Njoy Pure Wand
 The Pure Wand consistently elicits response from my body that nothing else has – EVER. I recommend the large end. 

This is more theoretical as I don't actually own the Comet but it has been referred to as a contender for the Pure Wand's "king of squirting" crown. I'm fascinated.

Liberator Fascinator Throe
Again, theoretical but, you now, squirting and all. The Fascinator Throe is designed to keep your bed mess-free, which I support. Post-sex sheet changing is not the most fun thing ever.
So, that's what the sex I happen to be having on February 14th might involve. I hope any sex you may or may not happen to be having on that or any other date is fun and fabulous! If none of these items tickle your fancy, check out Good Vibrations for a host of other awesome stuff to make your solo, partnered or group sexy time amazing!
 *This is possibly the most I've ever talked about sex I'm having in one post. I tend to not discuss my own partnered sex life on the site.