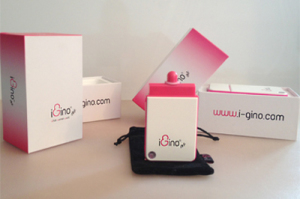 The first thought I had when I heard from the makers of the iGino One was "It's called iGino? That sounds like a character on Jersey Shore. It's like they were waiting for an Italian girl from New Jersey (aka me) to review this toy!" Before I received my iGino I riffed on the name constantly and by the time it came I had developed a whole character for iGino, a character who hung out in New Jersey night clubs and greeted women with a swarthy "How you doing?" I even made a little video:
What's the deal with this toy?
The intentions behind the iGino One are good- build a better vibrator for clitoral stimulation. The makers of iGino One emphasize how discreet it is and seriously, it looks more like an iPhone than a vibrator (It took me way too long to make that connection. Yeah, I know)
 Not sure how I missed that….
It's got a tiny head that is, in theory, based on a finger and it moves side to side extremely fast. Here's a video from the makers that gives you a bit more insight into the plan here.
How does it work?
The iGino One is rechargeable. It has a usb charging arm that swings out of the bottom to connect it directly to a computer. There is also a usb cord with a wall socket adapter (with plugs for both voltage types) Now that's neat but here's the rub, it's got a 12 hour charging time for 40 minutes of use.
Control-wise this toy is crazy simple, there's one switch on the side. No varying speeds or modes to go through- the iGino is either "on" or "off".
How does it feel?
So, I'm not a fan of the materials here. The body of the toy is hard plastic, which is fine but it is intended to be used with what they call the "Skintouch Head" The "Skintouch Head" (Dangerous Lilly likened it to a Lucky Charms marshmallow) that is made from EVA- squishy and porous.
 No, seriously, how does it feel?
So, when I first looked at this toy I held little hope for our relationship- that tip is so small. Small usually doesn't work for me. I hear reviewers talk about "pinpoint" stimulation and I cringe- I like to cover large swathes of my body. But…
Remember when I personified the toy as a dude in a nightclub, I wasn't that far off… This toy is like that dude you go home from a club with even though you know you aren't into him and then you get off but you feel weird about it.
So, rather than vibrate per se the iGino uses what they call vibraMoove technology. It's apparently patented and is purported to be modeled after the "natural movement of a woman's fingers stimulating herself". Well, the woman in question would have to be both bionic and on speed. The side-to-side movement is surprisingly strong and intense. I felt like this toy bullied my clitoris into an orgasm. After a few minutes I really didn't want to get off with this toy, I didn't want to give it the satisfaction, but my body betrayed me and I resented it. I wasn't enjoying myself but climaxed nonetheless. I came but I was not happy about it. It was a resentful orgasm.
As for the assertion that the iGino  is designed with "couples in mind" and fits "perfectly between two bodies to provide clitoral stimulation during sex"…no. I had to hold it in place to get it to touch me at all, which was distracting.  It would work better if more people were shaped like lego people.
 Also, while iGino is very clearly meant for and marketed towards women it seems worth noting that my partner's response to it touching his genitals was a loud "OW!" followed by a comparison of the sensation to the time he got his dick pierced… just putting that out there.
Things I'm down with:
There are several options to charge it, which is cool.
There's a cap that is designed to keep the toy clean
A carrying case is included, which I always appreciate.
I like that there's a "one" in the name. For me it calls to mind products like WD-40 and Formula 409 who claim to have derived their names from the number of products they made before they got to the one they really liked. I like how enthusiastic and well-intentioned the folks behind the iGino One are and I like to think that the "one" indicates potential for other iterations – like they could just keep improving from here. For more on the project check this out.
Things that make me go grrr:
It's a $100 toy with one speed. No. Just no.
12 hours of charging gets you 40 minutes of use. Just to make that clearer: half of a day = one episode of "Dawson's Creek" (yeah, I said Dawson's Creek)
It's loud. Like really loud. Like bad electric razor loud.
I felt kind of battered into submission by this toy and I'm a lover of intense toys. Anyone more sensitive would probably not be able to handle this.
The material. I just have no patience for porous materials.
The"Skintouch Head". The cap doesn't fit on the toy with the head in place so it must be kept separately. It is so lose-able that I lost it in my bed just getting the toy out.
Thank you to the folks at iGino for sending me the iGino One to test!
This product was provided to me by iGino free of change in exchange for my honest review.