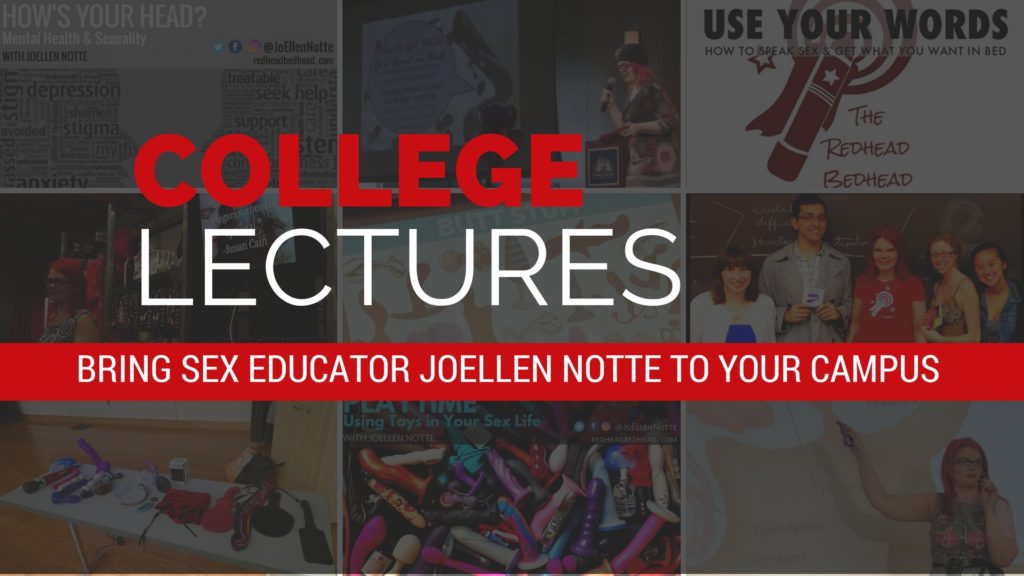 Do you want to bring fun, engaging, informative sex education to your campus? Great! Let's talk about it! I can bring my workshops or lectures to your school, and if requested, integrate your specific theme. Whether you want a full-scale workshop, a quiet Q&A, a multi-day on-campus residency, or something else entirely I can tailor an experience to fit your needs.
Below are descriptions of some of my most popular workshops and lectures but can custom-build a class for your event as well. Sessions are typically 75 – 90 minutes long with room for questions, but times can be adjusted to fit your event's schedule.
Playtime: Using Toys in Your Sex Life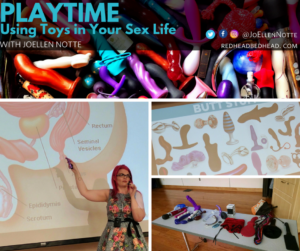 It's important to have the right tools for any job but with so many awesome (and some not so awesome) options shopping for sex can be overwhelming. Armed with an arsenal of toys and products, I will explain what toys there are and what they all do, give a little pleasure anatomy refresher, teach you how to spot the products that are safe for your body, and give you some tips to stock your nightstand on a budget! You'll also have the opportunity to anonymously (or not, up to you!) ask any question you have on the topic.
Audience member on @JoEllenNotte's sandwich bag strap-on tip: "She's the Martha Stewart of sex toys."

— Sex Week at UT (@SexWeekUTK) April 7, 2017
---
Sexual Myth-Busting: Calling The Bedroom Bluff
Between the internet, pornography, rumors, and not-so-great sex ed, people end up believing some *interesting* things about sex. The problem is wrong information can result in anything from unnecessary fears to actual risky behaviors. In this workshop, I will get real about sex, debunking the myths, and maybe even changing your mind about what is possible! We'll talk about what's real, what's not, what seems like it has to be fake but is totally doable, what people are just plain wrong about, and why it's okay if some of those totally real things just aren't your thing. This interactive workshop will include plenty of time for questions and the option to ask them anonymously.
---
Use Your Words: How to Speak Sex & Get What You Want in Bed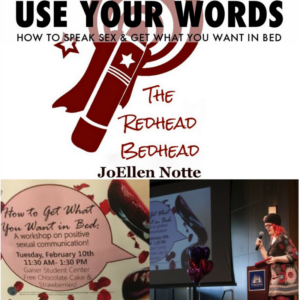 Old ideas like "silence is sexy" or "talking will ruin the moment" help no one and only lead to mediocre or unsatisfying sex. What if I told you there was something that could make your sex hotter, more fun, more satisfying, and help eliminate awkwardness in first time encounters? You're intrigued, right? You totally want to know what this thing is, right? Okay, I'm going to tell you. Ready? It's talking! I'll show you how treating consent as an ongoing process— a continual hunt for the "hell yeahs!"— lets partners work together to build an awesome sexual experience. We'll sharpen your consent skills, discover what you're not saying (but wish you were), and get down to some straight-up dirty talk. Explore how and why all these elements of communication can come together and result in amazing sex – whether your relationship is deeply intimate or completely casual!
---
How's Your Head? Mental Health & Sexuality
Are you dealing with mental illness? Do you know someone who is? In this class, developed over my years researching sex and depression, we will discuss common issues facing people coping with mental illness (from the stigma that makes dating difficult to the loss of libido and anorgasmia that can change sex entirely) and suggest strategies for coping with them. I will offer tips for navigating dating and relationships while taking care of yourself. Whether you are coping with mental illness yourself or in a relationship with someone who is, come learn why it doesn't have to mean the end of your sex life and leave with strategies for nurturing your sexual self while caring for your mental health.
---
 What people are saying about JoEllen Notte
 "JoEllen delivers sex education that isn't just informative, but a whole lot of fun. Her tagline is that she's "saving the world from mediocre sex." I'd say she's saving it from mediocre sex education!"
-Tara Stryuk -Editor, Kinkly.com
"Both presentations were awesome, and I REALLY appreciated the trans inclusive language."
– C.S. – University of Tennessee, Knoxville
"I am privileged to know JoEllen Notte as a presenter and a friend. Her sex ed workshops are fun, accessible, and inclusive, and her enthusiasm for the work shows through every minute she is speaking for a group. Her thoughtfulness and preparedness are incredibly evident in the effort she puts into creating a workshop that meets the needs of your organization and demographics. She was a joy to work with in planning the logistics of her visit and I wholeheartedly recommend her services."
-Bianca Palmisano,  The Garden DC
---
Get in Touch
Are you excited? Do you totally want me to come teach at your school? Then let's get together and do some learning! Use the form below to let me know about your school or event and which class you are interested in. We can also discuss creating a custom class to fit your needs. Questions? Drop me a line at joellen@redheadbedhead.com