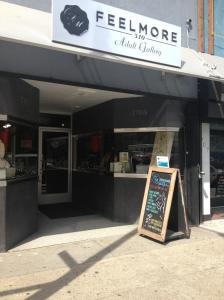 On February 14, 2011 Feelmore Adult Gallery (Formerly Feelmore510) opened its doors on Telegraph  Ave in Oakland, CA with the mission of serving its community. I can't say it better than owner and founder Nenna Joiner (who is kind of amazing!) does and so I won't try. From the Feelmore510.com website:
"Feelmore gives complete and total thanks for the honor to not only sell to our community but to serve our community.  Our tag line, "It's More Than Just Sex', demonstrates how we really feel about what we do.  Sex is the guise to what we do which is to ensure empowerment, education, and equality on a very basic level, uplift in a major way, and acknowledge without question."
If you have any questions as to whether Feelmore is accomplishing this community-serving mission you should have a look at my inbox and twitter feed. From the moment I announced the Superhero Sex Shop Tour in January I have been flooded with suggestions, recommendations and general raves for this shop (funnily, it was always on the tour. It was on the original list of stops, which only had 10 shops on it!) People love this shop. When it comes to reaching the community Feelmore seems to be hitting it out of the park.
So, clearly my hopes were high that morning a few weeks back when I finally headed out to Feelmore… so I high that I was there before they opened…that happens to me a lot.
Yeah so pretty much wherever you are in the world if you spot someone waiting outside for a sex shop to open it's probably me.

— JoEllen Notte (@JoEllenNotte) September 24, 2013
So, after spending some time at a seriously yummy donut shop I finally got to check out Feelmore Adult Gallery. So you know how a lot of times when there's a lot of anticipation before you get to something you end up kind of let down and then realize there was no way it could have lived up to what you pictured in your head? Yeah, so this was the exact opposite of that. Feelmore took what I had gone in expecting and exceeded it- a lot. I don't even know how to explain it because it's not entirely an esthetics thing- although the space is beautiful with its patterned wallpaper, pretty chandeliers and sexy art (by local artists),  it's not entirely a products thing although their selection is great- there's everything from vintage Playboys to toys at ALL price points (Nenna's collection really does have something for everyone- her answer to the "favorite toy materials" question below says some more about that) to a ton of books and it's not entirely a staff thing even though the staff at Feelmore achieves the perfect balance of being super easy to talk to and knowing exactly how to help you with your sexy shopping needs- I felt like I was shopping with a friend and they made sure I left with what I needed even when it took some finagling. What makes Feelmore great is bigger than all the individual things they do well.
I always say it takes 3 things to make a Superhero Sex Shop: Quality, body-safe products, accurate education and an awesome, inclusive environment. I've realized that while Feelmore has plenty of the quality products and offers terrific accurate education, they are really killing it on the awesome, inclusive environment. I shouldn't have expected less from a founder who supposedly dubbed her shop a "parlor" rather than "boutique" so as not to ostracize male clients (good call, right?!) but I was seriously floored by how Feelmore manages to at once be welcoming and unintimidating as well as ridiculously sexy, by how this shop feels like the world's hottest community center (I actually said while I was there "why did I think there was a pool table here?" I think I thought that because this shop could pull it off fabulously), by how I'm pretty sure anyone at all – any gender, orientation, level or girly-ness or dude-ly-ness- could comfortably shop here, by how Feelmore just makes you want to be there. Go there, go there now.
Okay, I'll stop talking now (but check out this other piece on the shop for more info on how cool it is) and hand the floor over to Feelmore's awesome founder and owner Nenna Joiner (My biggest regret is visiting on a day Nenna wasn't there! Read this for more on how amazing Nenna is) who has graciously answered the Seven Superhero Sex Shop Questions, Check it out:
What makes Feelmore unique?
Several reasons make Feelmore unique: #1) It's Oakland Grown. From the business to the store, it all began in Oakland. This makes a difference especially in this city. Everyone wants their own hometown favorite, and I believe Feelmore is that special place.
Entering a sex shop for the first time can be daunting. Any advice to first time shoppers?
First time shoppers or individuals never seeing a store like Feelmore are always challenged by what they think adult stores are vs. what they are seeing. The question constantly comes up, "What is this?" Our response is, "Whatever you want it to be." Perception is priceless and no one can tell your heart or eyes what to believe.
I imagine your job to offer the opportunity to teach, open minds and change lives.  Any favorite moments/great stories?
Our job is to not only sell (commerce) but to support (community) what our community needs. Sometimes people need 5 mins of your time to speak about job loss or how they don't believe things are going to turn around. But our most precious commodity here at Feelmore that we share with others is Time which is a Luxury. My personal favorite moment is when President Obama was going to be ½ block from Feelmore during his 2nd term campaign, and the Secret Service came into the store to let us know the order of the day. Well, given that the Secret Service does their job to the highest degree, I'm certain Feelmore was mentioned in the White House. Knowing this and seeing their face when they walked into Feelmore spoke volumes. I moved slowly so they would have to walk all the way into the store. In fact, porn was playing behind them as they told me what they needed all merchants in the area to know.
You're trapped on a desert island (that contains a magical tree which grows batteries and has an electrical outlet in the trunk). What 5 sex toys/products available from Feelmore do you want with you?
Knowing I wouldn't be alone, I would definitely want a few items to help get the job done but also have levels of variety (follow the links to find the items in my affiliate shops):
#1 Fun Factory Stronic Eins (electrical) *When hands free thrusting is a must
#2 Hitachi Wand (electrical) *When you want to be left alone pronto
#3 Toyfriend Nice *Something that can be hidden as well as stay quiet
#4 Screaming o Bullet *Comes with batteries; and packs a punch
#5 Cal Exotic Solar Bullet *When you just want to be Green (no batteries & no power)
What is your favorite toy material? Why?
It's a toss up between Plastic & Elastomer. Don't get me wrong I know the difference between the materials; however, certain communities may only have access to this material at a cheaper price which supports them exploring their sexuality. Silicone or other non-porous products are not the only materials that individuals should consider to improve their sex lives. Access to products is what is going to improve sex. Imagine not buying because one doesn't have enough money or transportation to certain areas where higher quality products are sold.
What is the most popular item at Feelmore?
Right now, for Feelmore it's Fleshlight Stamina Training Unit (STU)
Any cool upcoming projects?
We just finished having a fun workshop with Mollena on BDSM & POC. For Halloween we are having a costume party. That should be fun as we are giving away safe sex products & folks with costumes have the potential to win $150.00
Extra credit
What's on the Feelmore store soundtrack?
In this moment, Chicago Deep House music (Ambient Clutter (Ejeca Remix) by Session 9)
Feelmore is located at
1703 Telegraph Ave.
Oakland, CA 94612
Find them online at Feelmore510.com
Twitter: @Feelmore510
Feelmore Classes and Events