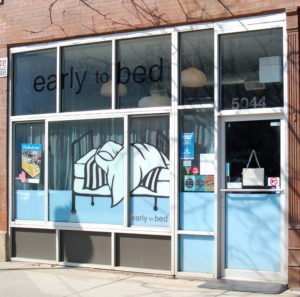 When planning the Superhero Sex Shop Tour I was, of course, excited to go see all the shops but there was one that had been on my radar for so long and that I had so often lamented my distance from that it would be fair to say I planned the tour around visiting it. That shop was Chicago's Early To Bed.Early to Bed's founder Searah is a business person after my own heart. After visiting a bad sex shop with tacky products and clueless staff she went on a mission to bring Chicago a sex shop with "smart staff people, fair prices and a warm, women-friendly environment" (*swoon*) In September 2001 Early to Bed, "Chicago's first women-owned, women-oriented, boy-friendly, queer and trans-positive sex shop" was born.
There's so much awesome about Early to Bed that, for me at least, the physical shop (which is beautiful and well-stocked) is just the tip of the ice berg. It is so much more than a place to go buy sex toys and products. With its extensive educational offerings, comfy reading area (complete with a library of books to read while in the shop) and friendly, inclusive feel Early to Bed feels more like an awesome sexuality resource center, where you can also buy a ton of awesome stuff. I love this place. A lot.Seriously, I tried to shop while I was here but I really just wanted to talk to Searah forever. Speaking of which, the awesome Searah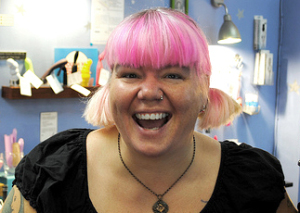 was kind enough to to take the time to answer the Seven Superhero Sex Shop Questions Check it out:
What makes Early to Bed unique?
We were Chicago's first woman-owned sex shop and the only one here that calls themselves feminist! ETB is owner-run and staffed by folks who LOVE sex toys. We are committed to supporting our local communities and we do a ton of outreach & education at local schools, social service agencies and community groups.
Entering a sex shop for the first time can be daunting. Any advice to first time shoppers?
Just relax and remember that everyone else in the shop is there for the same reason. If you are able to go to a shop like ours, take advantage of the friendly staff and ask lots of questions. We want folks to leave with a lot of knowledge and are happy to dispense lots of advice. And trust your instincts! Don't bother with what is the best seller or hottest new thing, look for toys that attract your eye and fit your budget.
Any favorite moments/great stories?
Oh my gosh, SO MANY! There have been countless mini moments of folks telling me how our shop and/products have changed their sex lives for the better. The women who have come back and let me know that the vibe they got from us resulted in their first orgasm; overhearing my staff explain the inner working of the female sexual anatomy to young folks who are hungry for more info on their own bodies.  I do a lot of lecturing at local colleges and get to have students come into the shops months or years later even and tell me how influential hearing me speak was. I get love notes form customers praising my staff for their amazing help. Basically everyday has at least one moment of someone saying or doing something that makes me feel great about what we are doing here.
You're trapped on a desert island (that contains a magical tree which grows batteries and has an electrical outlet in the trunk). What 5 sex toys/products available from Early to Bed do you want with you?
What is the most popular item at Early to Bed?
Well, we do most of our business in vibrator sales, with the Hitachi, Silver Bullet & Rabbit Habit being the most popular. As we serve a lot fo newcomers, our First Timer's Kit is a huge seller and we do a mad business in Classic Packies.
Any cool upcoming projects?
I always have a list of future projects that I always hope I'll have time for and rarely do.  Some are secret but currently we are looking to work with more health care providers so we can provide their clients with a safe & welcoming space, I'm trying to figure out ways to bring our education workshops to the masses via video, I have my side project FtMEssentials.com that we are working on making better and bigger and as always, I'm searching out new toys, better sexual health info and ways to help the world masturbate more!!
Extra credit:
What's on the Early to Bed store soundtrack?
If I am working, Indigo Girls, when my staff is our front pretty much anything but the Doors (which I have banned).
Early to Bed is located at
5044 N Clark St
Chicago, IL 60640
Find them online at early2bed.com
Twitter: @Earlytobed
Early To Bed Classes and Events