So, if you were following my exploits throughout the Superhero Sex Shop Tour you know that I did a good deal of shopping a long the way… some might say too much shopping… whatever, it's important to support independent businesses!! Anyway, whether I bought them or not I found some really cool stuff in the shops I visited and now I'm going to tell you about it.I've noticed that whenever I do lists like this they end up being 73.8% dildos… I tend to think of myself as more of a vibrator girl. Weird. Anyway, two of the items on this list are not available on the websites of the shops they are listed with but I'm sure if you give them a call or drop them a line they will hook you up!
Happy Valley Celebrity Lezbian Fist– Come as You Are, Toronto ON
Okay, I'm going to come clean. I didn't actually see these in the shop. I saw them online, went to the shop, had a fabulous visit and an awesome time chatting with Jack (who I gush about in the shop write-up) and then got back to my hotel room and realized I hadn't seen the fists. I actually emailed back and said "I missed the fists! Are they gone?" Nope, they were totally there, I just didn't see them. D'oh, indeed. But, come on, it's  "a limited edition series of silicone fists cast from the actual hands of famed and favourite queer cultural icons", they're awesome!
Consent Panties – Sugar, Baltimore MD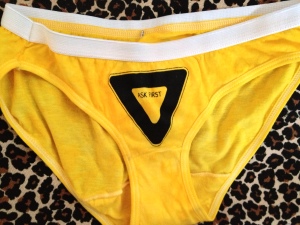 So, remember last December when feminist group FORCE: Upsetting Rape Culture punk'd Victoria's Secret by creating a line of consent-themed panties and convincing folks they were part of the PINK line? Turns out FORCE is from Baltimore and Sugar carries the panties. They are not available on the website though, so these are mine. Did I just make it awkward?
Whipspider Rubberworks (DISCONTINUED)  – Sexploratorium, Philadelphia
Jellyfish       Unicorn Horn       Wave       Ghost
One of my favorite parts of the tour was discovering small companies doing cool stuff.  Behold Whipspider Rubberworks, a small company out of Bangor, Maine that makes bad-ass silicone dildos! I found their stuff at Sexploratorium in Philadelphia (seriously, hats off to their buyer) and was charmed by the funky, non-representational toys made from body safe materials.
We-Vibe Tango– Good Vibrations*, Brookline MA
Okay, so I'm reaching back here (remember, Good Vibes used to be my home base sex shop) but it's true, Alex at the Brookline shop is the one who turned me on to the  nifty piece of waterproof, rechargeable wonder that is the We-Vibe Tango
*As the Tango is no longer available on the Good Vibes site, the link goes to SheVibe
Crystal Delights Faux Fur Tail –Tool Shed Toys, Milwaukee WI

I know, we've all seen the plugs with tails but this one was different. This wasn't trying to be an actual animal. This looked like a light purple, dreadlocked muppet tail and although I didn't buy this tail (which I kind of regret- a lot) I loved it! Then Lucky said she was surprised it hadn't been bought by a Furry yet and I almost changed my mind… almost. Scritching isn't my thing but I still love this tail!
Noemie Ceramic Dildo (DISCONTINUED) – A Woman's Touch, Madison WI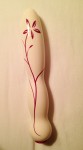 I spent so much time in A Woman's Touch saying "I've never seen that before!" and a ceramic dildo was definitely on the list. I had one of my awesome readers with me and she showed me how the plug at the bottom comes off allowing it to be filled with warm or cold water to play with temperature or different amounts of water to vary sensations. Also, so pretty!
First Timer's Kit – Early To Bed, Chicago IL
I love the idea of this so much! A couple of different toys to try out sensations, lube (which people don't always get the importance of) and a neat little pouch- it's like a little "welcome to masturbation!" care package.
Cashmere Flogger (specifically) & Swoon Kink (in general)- Smitten Kitten, Minneapolis MN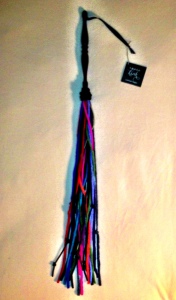 Okay, it's not nice to play favorites but this is maybe my favorite thing I picked up on the tour. So, Smitten Kitten carries a bunch of stuff by a little company called SwoonKink which repurposes old cashmere sweaters and stuff into (wait for it) blindfolds, handcuffs, masturbations sleeves and floggers. A-mazing. I love this flogger because it's gorgeous, feels awesome and is a bit subversive… each cashmere strand was once the seam of a sweater so I like to imagine that the sweaters belonged to DAR type women and were worn to luncheons and meetings about banning books and voting republican (clearly, I've watched too much Gilmore Girls) and now they are being used to flog me. Now, apart from the blindfolds none of the SwoonKink stuff is on the Smitten Kitten site but if you love this, give them a call, I'm sure they'll hook you up- they're super-cool!
Blossom Organics Natural Moisturizing Lubricant– She Bop, Portland OR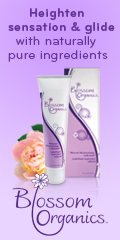 After She Bop owner Evy's enthusiastic recommendation of this stuff (which you can read in the She Bop profile) when I visited the shop back in December I had to see what the big deal was. Was I convinced?Let's just say that some folks got Blossom Organics Natural Moisturizing Lubricant from me for Christmas. For real. It went over quite well!
Vamp Silicone – Tulip Toy Gallery, Chicago IL

I agonized over which picture to use here because I fell in love with this whole line. I went with the one you see because it is one of the models that has a really cool angle for strap-on play but if you click on the links they will take you to the whole list. Vamp dildos and plugs are all silicone, come in both a soft skin and a regular finish and a crazy array of colors (sparkles are an option) They have great names – the one over there is Talula, I bought Wilde. Really, it's a neat little company. They pour right in Chicago so Tulip was like ground zero for their stuff but I have seen them in 3 shops and on SheVibe since so be on the lookout.
This was meant to be a 10 item list but I need to give an Honorable Mention (as it were) to Foulmouth Greetings. These awesome little cards made by Anna Diem were available in many of the shops I visited. I love them. In fact, recently, when the "benefits" portion of a "friends with benefits" situation ended I may have sent this card: