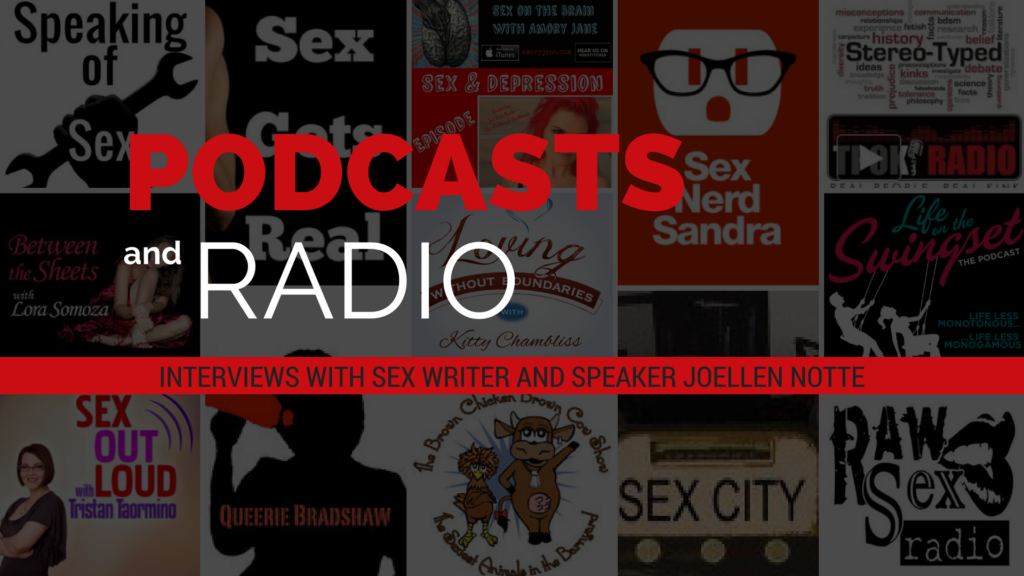 Here you'll find JoEllen's interviews on a range of topics including sex and depression, sex positivity, sex toys, adult retail – we talk about the best shops in the US!- and more.
---

Disability After Dark – My Depression is Separate From Me: An Interview with JoEllen Notte
November 5, 2017
In this episode, Andrew talks with JoEllen Notte; well known researcher, mental health advocate and writer about the linkages between sex, depression and disability. They talk about how she manages her depression, whether or not she believes depression is a disability, and so much more.
---

Brown Chicken Brown Cow- Sex and Depression with JoEllen Notte
August 28, 2017
In this episode, Monkey and HethreBeth interview JoEllen Notte. JoEllen is a noted writer, speaker, researcher, and mental health advocate. We talk about the intersection of mental health and sexuality. It is a good conversation about a serious subject but if you or someone you know and love manages their mental health this episode and can give you and them tools to think about mental health and sexuality in a new way.
---

Stereo-Typed 17 – Sex, Depression and Relationships
February 22, 2017
JoEllen Notte joins Camille to discuss her research into the intersection of these two stigmatised topics. Discussion includes:
What effects can depression have on someone's sex life?
What the hell are "sexual side effects" when it comes to antidepressants?
Why doesn't the medical and pharmaceutical community see this as a "quality of life issue"?
---

Sex, Depression, and the Conversations We Aren't Having feat. JoEllen Notte
January 13, 2017
JoEllen discusses the impact of depression and its treatments on sexual function and relationships. She also discusses her original research and offers tips and strategies for navigating relationships when depression is part of the equation.
---

Sex on the Brain Episode 7: Sex & Depression
January 12, 2017

JoEllen Notte dives into her research on depression and how mental illness and medication can impact our sex lives and our relationships. She also debunks depression myths, offers important advice for partners of people living with depression, and emphasizes how none of us are broken.
---

This week on Sex City
August 9, 2016
"Cordelia has the pleasure of interviewing JoEllen Notte. Since 2014 JoEllen's been doing extensive research on sex and depression. She's just finished presenting at the Woodhull Sexual Freedom Summit, and I'm looking forward to chatting with her."
---

Episode 114: JoEllen Notte on sex positivity vs sex performativity
June 19, 2016
Dawn Serra and JoEllen Notte roll around in sex positivity versus sex performativity and the ways sex positive folks often don't walk the walk after talking the talk.
Plus, consent, not being a creep in a sex shop, and more.
---

Episode 255: "Sex & Depression"
March 22, 2016
This week on Between the Sheets with Lora Somoza: We're having a frank discussion about Sex and Depression. What are the signs? How can you help yourself or your partner? What are the common pitfalls and misconceptions? Tune in for the answers. You never know when you or a loved one may need them. Sex educator JoEllen Notte and comedian Adam Carl join Lora for a very informative conversation.
---

Pleasure Mechanics Episode #166: Sex and Depression with JoEllen Notte
January 29, 2016

Millions of people struggle with chronic depression – and all of them have a sexuality. Yet the relationship between sex and depression is rarely discussed. On this podcast episode, JoEllen Notte shares her wisdom about sex and depression.
---

#186: SEX & DEPRESSION WITH THE REDHEAD BEDHEAD!
March 29, 2015
CONFESSIONS, LIBIDO & GENITALS! Sandra comes clean with pal Rachael for support. Then, JoEllen Notte, a.k.a. The Redhead Bedhead, shares her findings on this invisible illness and how it intersects with sex as she prepares to write her upcoming book "Monster Under the Bed."
---

This week on Sex City
December 16, 2014
Dorianne talks with Kelly Guillory the artist behind Transhuman Resources, Emily Nagoski, the author of the Good in Bed books, and JoEllen Notte, founder of the Portland Academy of Sex Education.
---

SS 182: The Worst Sex Toys in the World!!! with Crista Anne and the Redhead Bedhead
November 12, 2014
We've talked and talked about awesome sex toys are, the tremendous advancements in the field, the glory of stainless steel and silicone, body safe and body conscious products. You know all of that. So, today we're gonna talk about the flip side. The worst sex toys in the woooooorld!
---
#

20 Redhead Bedhead: Sex and Depression
August 29, 2014
JoEllen talks about the impact depression can have on one's sex life (and some fun toys stuff too!) with the Raw Sex crew.
---

The Queerie Bradshaw Podcast-  Superhero Sex Shops and Great Sex Toys with JoEllen Notte (The Redhead Bedhead) 
May 8, 2014
How do you tell a good toy from a great one? How do you spot a superhero sex shop? JoEllen Notte (the Redhead Bedhead) joins Queerie Bradshaw to answer these questions and more.
---

Sex Toy Extravaganza with Emily Morse of Sex with Emily plus CalExotics, Fun Factory, Sportsheets & Redhead Bedhead
February 7, 2014
The Redhead Bedhead weighs in on toy company/consumer synergy. This is the final part of a series of interviews recorded at the PleasureWorks booth at the 2014 Adult Novelty Manufacturers Expo in Burbank, CA.